SFDEO pledge support to Regional Federation of Employees Union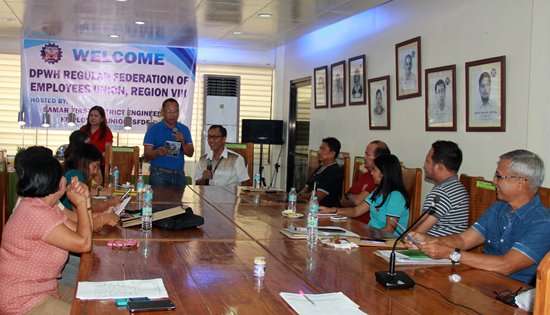 By APRIL FATIMA D. VILLANUEVA
October 27, 2017
CALBAYOG CITY – SFDEO hosted the Regional Federation of Employees Union Officers and Board of Directors Meeting, spearheaded by Engr. Enrico Cobacha on October 06, 2017, 1:00 pm at DPWH - SFDEO Conference Hall.
District Engineer Alvin A. Ignacio extends his warm welcome and commitment to support any activities that will boost the cause of helping the rank and file employees in investment and financial management. He shares his endeavors as a previous President in Northern Samar, and he introduces the Bulig Program that enables the employee to borrow funds at a lower interest rate and canteen, which enable members of the association to generate income through dividends.
RFEU consists of 13 Districts namely Biliran, ESED, Leyte I, Leyte II, Leyte II, Leyte IV, Leyte V, SLED, Northern Samar I, Northern Samar II, Samar I, Samar II and Tacloban City.
The agenda of the meeting are the reporting of the financial status of RFEU, submission of financial status report of DEO RAFEA, synchronize election of RAFEA Officers, planning of activities and approval of proposed budget for the next board meeting. The Union addressed the benefits of their members and how to uphold the status of promotion of rank and file employees.