DTI cites winners of Startup World Cup Philippines regional finals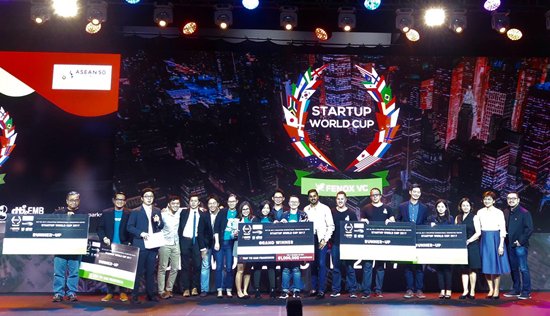 By DTI-TIPG
October 26, 2017
MAKATI CITY – In the recently concluded Slingshot ASEAN led by the Department of Trade and Industry (DTI), winners for the Startup World Cup - Philippines Regional were announced to represent the Philippines and compete with the rest of the world in the upcoming Startup World Cup Grand Finale in Silicon Valley on May 2018.
Storm Technologies topped the ten finalists as it bagged the grand prize, which includes an all-expense paid trip to San Francisco and a chance to win $1,000,000 by competing in the Startup World Cup Global Finale. Storm Technologies is the largest flexible benefits and incentives firm in the Philippines. It serves over 100,000 employees across different industries.
Meanwhile, runners-up include Beam and Go as 4th runner-up; Zennya, 3rd runner-up; Qwikwire, 2nd runner-up; and Ayannah, 1st runner-up. All runners-up will be attending Startup World Cup Finale in Silicon Valley.
Startup World Cup Philippines Regional grand finals is a collaboration between DTI, Department of Science and Technology - Philippine Council for Industry, Energy and Emerging Technology Research and Development (DOST-PCIEERD), DENTSU X Philippines, Fenox Venture Capital Southeast Asia and Brainsparks. Startup World Cup on the other hand, is a global conference and competition that brings together the top startups, venture capitalists (VCs), entrepreneurs and world-class technology executives.
Organized by the Department of Trade and Industry, Slingshot ASEAN is one of the official events lined up by the ASEAN Committee on Business and Investment Promotion (ASEAN-CBIP) being chaired by DTI Undersecretary for Trade and Investments Promotion Group Nora K. Terrado.