PH to be a regional automotive hub – trade chief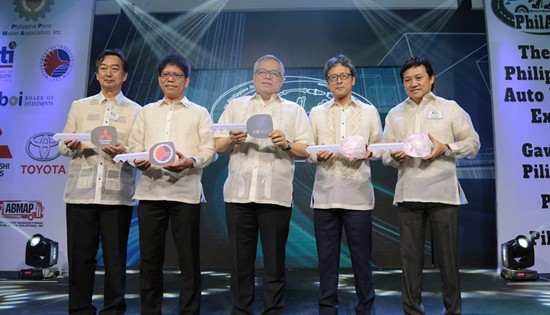 By DTI-OSEC-PRU
October 23, 2017
MAKATI CITY – At the first ever Philippine Auto Parts Expo (PhilApEx) in Pasay on 12 October, Department of Trade and Industry (DTI) Secretary Ramon Lopez urged local auto parts manufacturers to take part in the automotive industry revitalization initiative of DTI that will also complement the thrust of President Rodrigo Duterte and the Department of Transportation (DOTr) to realize Philippine made modern Public Utility Vehicles (PUVs).
PhilApEx was convened to showcase and promote the gains of the Comprehensive Automotive Resurgence Strategy (CARS) Program, which will hopefully assist the local industry to level up against importation into the country, reaching 700,000 units by 2022.
"The overall goal of the program is in line with the 10 point socio-economic agenda of President Duterte, developing the Philippines into a regional automotive hub, assisting MSMEs to grow, and eventually generate more job opportunities for those at the bottom of the Pyramid," said Sec. Lopez.
To further push the automotive industry's resurgence, DTI decided to shift the unsubscribed third slot budget under the program to support the local manufacturing of replacement vehicles for DOTr's PUV Modernization Program, wherein local content and auto-parts to be manufactured domestically could generate 65,000 additional local employments, thus improving industry capacity across time.
"We are looking forward for the Philippines to be a trade surplus country in the coming years, with seven to eight percent growth in the manufacturing sector from the former one percent, positive six percent from agriculture industry development and not to mention the robust growth in the service sector," he added.
Sec. Lopez mentioned that DTI vows to champion the event's slogan "Gawang Pilipino, para sa Pilipino," wherein the government would be providing subsidies for local car parts manufacturers, who qualify as suppliers for the Eco-jeepneys for the PUV modernization program.
He also shared that DTI with DOTr are working hand in hand to monitor developments as manufacturers are submitting prototypes to be used for the nationwide PUV modernization scheme.
Also at the event were Land Transportation Franchising and Regulatory Board (LTFRB) Chairman Martin Delgra III (2nd from L), Philippine Parts Maker Association (PPMA), Inc. President Engr. Ferdi Raquel Santos (rightmost) with two participating car-maker executives: Mitsubishi Motors President Mutsuhiro Oshikiri (leftmost) and Toyota Motors Corporation President Satoru Suzuki (2nd from R).