Stamp out Marcos rehabilitation
CARMMA denounces PhilPost-issued Marcos centennial stamps
By CARMMA
October 27, 2017
QUEZON CITY – "Another stolen credit, another stamping of Marcos rehabilitation and revision of history," was how CARMMA described the issuance of a commemorative stamp on the birth centennial of the late dictator Ferdinand Marcos.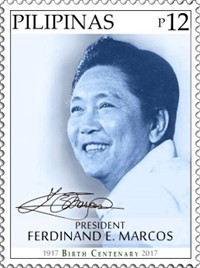 "Not in our mails," said CARMMA spokesperson Bonifacio Ilagan, in reaction to the stamp, issued by the Philippine Postal Corporation which featured Marcos' portrait and signature. "The Duterte regime's political rehabilitation of the Marcos goes on and on. One day, shall we see images of Marcos all over the country? Posters, action figures? We can only express extreme disgust," he said.
As to the non-announcement of the release of 50,000 stamps, Ilagan said the PhilPost knew there will be reactions and protests with these actions. "However, they sadly chose to be part of the continuing sanitization of history, stamping out the sins and accountabilities of the Marcoses, as if he is the one who should be given high regard. Philippine heroes are definitely rolling in their graves, with their faces on stamps alongside a dictator who wronged the people!" Ilagan said.
"Whether PhilPost management is ignorant of the crimes of the Marcoses against the people and the nations's history of anti-dictatorship struggle or is engaged in the deliberate moves to rehabilitate the dead dictator, the issuance of a commemorative stamp to pay tribute to a murderer and plunderer is an affront to our morality and sensibility as a nation. It deserved our strong rebuke," said the group.
The group said with this, CARMMA is preparing for actions towards the one year of the infamous hero's burial of Marcos at the Libingan ng mga Bayani.
"The Marcoses, with Duterte as their most reliable patron, are not stopping at changing what has been stamped in the past, consciously trampling upon not just history but the hard-fought battles of the people against tyranny and dictatorship. As for Duterte, his actions and decisions are all copycats of his idol Marcos. Before he thinks of being put in a stamp, or becoming an action figure, he should worry of the people's verdict to him as one president who won through popular support, but gave failed change and resulted to anti-people policies, and creeping towards a tyrannical rule," Ilagan said.