Turn-over of new school building in Brgy. Larrazabal, Naval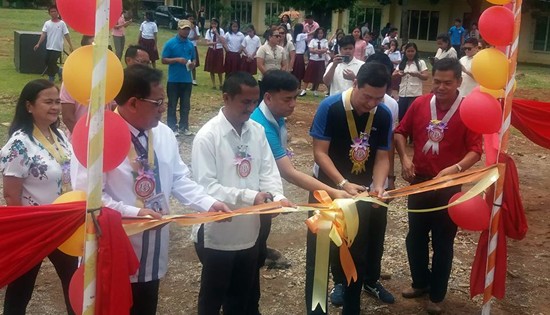 By CARL MARK D. PEDRERA
October 26, 2017
NAVAL, Biliran – The Department of Public Works and Highways - Biliran District Engineering Office (DPWH-BDEO) partakes in the turn-over ceremony of the newly constructed P2.945-million school building project under the Department of Education Basic Educational Facilities Fund (DepEd BEFF) of CY 2016 on September 28, 2017 at the Naval National Highs School (NNHS) in Brgy. Larrazabal, Naval, Biliran.
Congressman Rogelio J. Espina (Lone District of Biliran) led the turn-over of the new 1-storey, 3-classroom structure to Naval National High School in Brgy. Larrazabl, Naval, Biliran. The event was also attended by District Engineer David P. Adongay (Biliran DEO), Rev. Fr. Kenneth Hendricks, Schools Division Superintendent (SDS) Pedro T. Escobarte, Jr., Assistant District Engineer Alfredo L. Bollido, School Principal Dr. Armando Laude, School Governance Office Division (SGOD) Chief Lucille Roa, Board Member Justin Roa, Engr. Warlito Alagao (WB Alagao Construction), teachers, DepEd and LGU Officials.
Part of the program was the ribbon cutting and blessing of the building followed by the messages of support from Congressman Espina and District Engineer Adongay and the ceremonial turning over of the responsibility to the school. The school gladly accepted the symbolic key and the Principal, Dr. Laude extended his gratitude to DPWH and its partners for their continued support and assistance.
All the students and teachers were very grateful for the new school building granted to them as they witnessed the turn-over of the symbolic key.
The new school building has sufficient lighting and is well ventilated making it conducive for learning. This will accommodate the current and future enrollees of the school.