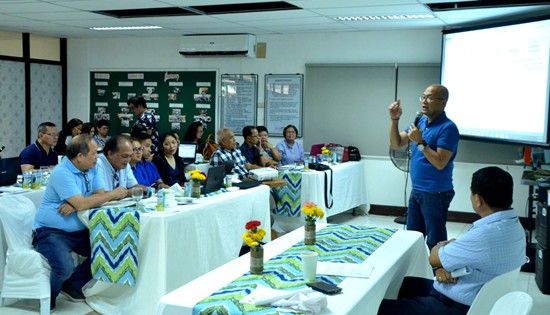 Regional Director Stephen Leonidas of the Department of Agrarian Reform in Eastern Visayas commended the Land Tenure Service sector during the regional assessment for accomplishing 160 percent of their target in Land Acquisition and Distribution in 2019, and challenged them to deliver 50 percent of their 2020 target during the first quarter.
DAR-EV hits 160 percent of their target in 2019
By JOSE ALSMITH L. SORIA
January 22, 2020
TACLOBAN CITY – The Department of Agrarian Reform (DAR) in Eastern Visayas accomplished 160 percent of its 2019 target in land distribution.
Engr. Francisco Diloy, chief of the Land Tenure Service (LTS), reported during last week's regional assessment that a combined area of 3,282 hectares of private agricultural lands had been issued with certificates of land ownership award (CLOAs) and registered at the Registry of Deeds (ROD) in the names of 1,564 qualified agrarian reform beneficiaries (ARBs) throughout the region last year.
He stressed that last year's accomplishment in Land Acquisition and Distribution (LAD) was 60 percent over their 2019 target of 2,050 hectares.
According to him, DAR Leyte Provincial Office, headed by Provincial Agrarian Reform Program Officer (PARPO) Renato Badilla, contributed the most to the region's accomplishment with 2,986 hectares, which is 175 percent of their target.
Samar, Northern Samar, and Southern Leyte delivered 145 hectares, 125 hectares, and 25 hectares, respectively.
Further, Diloy reported that his sector likewise accomplished more than 100 percent in other activities, such in Claim Folder Preparation and Documentation, Surveys, and Land Valuation, as well as in non-LAD activities.
Meanwhile, Regional Director Stephen Leonidas commended the efforts of the LTS, however, for the current year, he challenged the said sector to deliver 1,000 hectares or 50 percent of the annual target during the first quarter.
When Leonidas assumed office in September last year, he evaluated and resolved issues on landholdings with field investigations conducted in 2018 covering 2,000 hectares and targeted for distribution this year.
Meanwhile, on Agrarian Reform Beneficiaries Development and Sustainability Program (ARBDSP), Chief Agrarian Reform Program Officer Melecia Ong reported that her sector likewise hit more than 100 percent of their targets in 2019.
According to her, 24,373 ARBs throughout the region were exposed to various livelihood and organizational trainings, which is 152 percent of their 16,031 target.
She added that more than 14,000 ARBs were given access to credit and microfinance, which is 128 percent of their target last year.
Further, Ong said that 226 ARB organizations or 156 percent of their 2019 target were provided with technical, enterprise, farm and physical infrastructure support, while 20 ARB organizations were provided with farm machineries and equipment under the Climate Resilient Farm Productivity Support (CRFPS).
On Agrarian Justice Delivery (AJD), Leonidas also commended both the Legal Division and the DAR Adjudication Board for resolving pending agrarian-related cases in 2019.