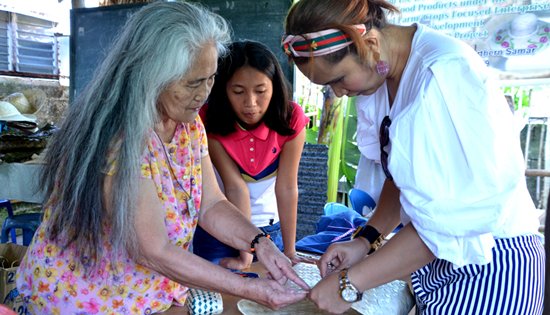 The Department of Agrarian Reform (DAR) commissioned the Design Den to train members of agrarian reform beneficiary organizations (ARBOs) to enhance the designs of their handicrafts and be at par with other products in the market.
Farmers see higher sales on handicrafts in 2020
By JOSE ALSMITH L. SORIA
January 17, 2020
TACLOBAN CITY – As the new year comes in, four agrarian reform beneficiary organizations (ARBOs) from different remote villages in Eastern Visayas are looking forward to an improved sales and higher revenues for their handicrafts in 2020.
This came out after members of the said ARBOs underwent skills training towards the end of 2019 on how to enhance the quality and designs of their products.
The Department of Agrarian Reform (DAR) Central Office commissioned last year the Design Den to conduct the training nationwide to boost the marketability of the handicrafts manufactured by farmers utilizing available raw materials in their area.
In Region-8, Regional Director Stephen Leonidas disclosed that the ARBOs chosen to undergo the said training were the Macalpi Community Multi-Purpose Cooperative (MCMPC) in Carigara, Leyte; the Hantag Farmers Multi-Purpose Cooperative (HFMPC) in Maasin City, Southern Leyte; the Villahermosa Oriental Farmers and Fisherfolks Association (VOFFA) in Pagsanghan, Samar; and the Cabacungan Multi-Purpose Cooperative (CMPC) in Allen, Northern Samar.
MCMPC is into plant-holder making using coco coir as raw material; HFMPC is into sinamay-weaving using abaca; VOFFA is into bag and hat making using buri; while CMPC is also into bag and hat making but using romblon as its raw material.
Marlene Ajihari of the CMPC was happy of the outcome of the two-day training. According to her, before, their designs were simple and limited, and the size of their bag was fixed.
During the training, they learned more designs and the use of other raw materials available in their area such as shells, as they are living along the shoreline, she added.
She emphasized that they also learned to be flexible and not to limit the sizes of bags.
With her excitement, Marlene showed their outputs to a retired teacher in the neighborhood and instantly got orders worth P450.
Consolacion Cabacang, another member of the CMPC and at 75 years old, said she learned a lot from the training though she had been a weaver since 14 years old.
For the VOFFA members, according to them, they used to produce bags only as container for crabs that are being sold in their town. Each bag was sold at P40 only.
But now, Rosalinda Cubay added, they are inspired to produce fashionable bags and other accessories and sell them at a higher price.
In Carigara, Cynthia Bodo thanked DAR for exposing them to different trainings to help them earn higher.
Aside from plant-holders, they got ideas from the training to produce also other items, such as lamp shades, using coco coir, Bodo excitingly shared their experience.