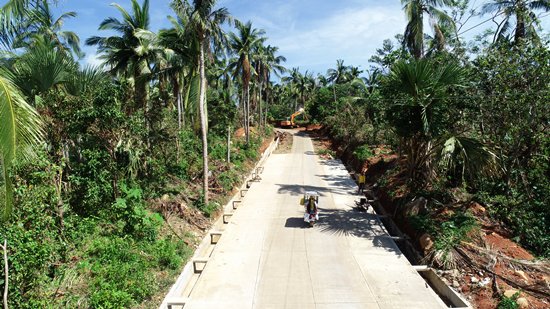 Construction of access road leading to Bagongbong Falls at Brgy. Caucab, Almeria, Biliran is on-going with 70% accomplishment as of December 31, 2019. The completion of the project (2018-2020) will provide a better road for local and foreign tourist and more or less 2000 residents in Brgy. Caucab in the town of Almeria. From a bumpy and narrow existing concrete road, road users will enjoy a wider and safer travel.
DPWH-Biliran DEO ends 2019 with 79.05% project accomplishment
By DPWH-Biliran
January 15, 2020
NAVAL, Biliran – The Department of Public Works and Highways (DPWH) Biliran District Engineering Office (DEO) has accomplished 79.05% accomplishment of its 2019 Infrastructure Projects as the year ends.
As of December 31, 2019, the district office completes 66 projects with remaining 23 projects on-going and three Not-Yet-Started (NYS) projects incurring negative 9.14% slippage.
According to David P. Adongay Jr., District Engineer, the district office is still on-going in the implementation of road widening project, bridge construction, construction of bypass road and other big-ticket projects, hence the low accomplishment of the district office.
To address the said delay, contractors sustaining negative slippages of their projects were obliged to provide a notarized letter of their commitment to complete the projects within its extended duration. This has been tackled during the district's coordination meeting with the contractors on January 14, 2020.
Adongay advised contractors to exert effort to fast-track its remaining 2019 projects so that they can fully focus in the implementation of their 2020 projects.
"This must be given importance for us to have a smooth and successful implementation of our projects, improve our performance and achieve the goal and objectives of this department," emphasized Adongay.
Under the 2019 implementation, DPWH-Biliran DEO is tasked to implement a total of 92 projects with a total allocation amount of P1.28B.