RD Centi inducts new TIPC Officers in Eastern Samar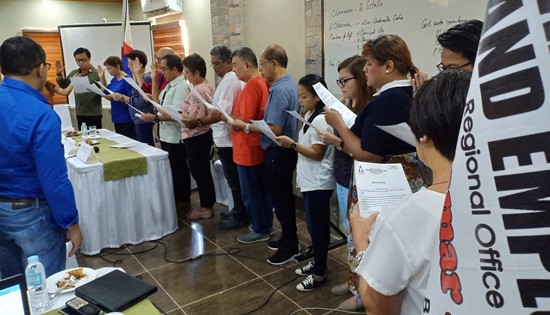 By DOLE-8
June 26, 2019
BORONGAN CITY, Eastern Samar – The Department of Labor and Employment- Eastern Samar Field Office (ESFO) conducted the Provincial Tripartite Industrial Peace Council Meeting cum Employers' Forum on June 20, 2019 at Rawis Resort & Hotel Restaurant, Sitio Rawis, Brgy. Alang-Alang, this City.
The one-day activity was graced by DOLE Regional Office No. VIII Director Yahya A. Centi and DOLE-ESFO Head, Ms. Fe A. Estrella. Present also were the Provincial Director of Technical Education Skills Development Authority (TESDA), Mr. Rolando Juanillo and Department of Trade and Industry Provincial Officer-in-Charge, Mr. Jorge Modesto.
After a brief overview of the Tripartite Industrial Peace Council, election of TIPC officers followed.
Elected officers are as follows: Ms. Fe A. Estrella as Chairperson; Ms. Andresita Y. Cuña as Vice Chair for Management; and Ms. Nathalie Jean Cardeño as Vice Chair for Labor. Members for Management sector are Mr. Oscar Ty, Mr. Jesus Ang, Mr. Conrad Uy and Ms. Marguerite De Veyra. For the labor side, members are Mr. Rey Aves Alido, Ms. Luzviminda Montances, Ms. Emelia Lauresta and Mr. Reymark Estrobo.
Mr. Juanillo of TESDA, Mr. Modesto of DTI, Ms. Maria Rina Vertulfo of Eastern Samar PESO Managers Association (ESPESOMA) and Ms. Penelope Pomida of DYES Radyo Pilipinas completed the tripartite council representing the government sector.
Director Centi solemnly administered the Oath of Office of the newly elected TIPC officers in front of the seventy-five (75) active attendees coming from the different sectors of the province.
In his message, Director Centi encouraged the Council to be proactive in strengthening the cooperation between management, workers and government sectors in promoting the best interest for the Province of Eastern Samar.
"There is a need to institutionalize tripartism by providing for a continuing forum for tripartite consultation in aid of streamlining the role of government by empowering worker's and employers' organizations, enhancing their respective rights, attaining industrial peace and improving productivity", said Director Centi.
The one-day activity was capped with an Employers' Forum on the latest DOLE issuances. Several important topics were discussed for the information of the attendees.
Regional Tripartite Wages and Productivity Board (RTWPB) Secretary, Mr. Reynaldo Soliveres discussed about Productivity and Compensation Scheme of Public Bus Drivers and Conductors while Ms. Michelle Basal, Information Officer II of Employees Compensation Commission (ECC) discussed on the latest updates on Employees Compensation Program (ECP).
Engr. Aleksei Ceasar Abellar, Officer-in-Charge of DOLE Samar Field Office tackled the Department Order No. 198-18 or the Implementing Rules and Regulations of Republic Act No. 11058 "An Act Strengthening Compliance with Occupational Safety and Health Standards and Providing Penalties for Violations Thereof". Mr. Marlo Sible, Senior LEO of ESFO, gave emphasis on the Kasambahay Law and Department Order No. 183-17 or The Revised Rules on the Administration and Enforcement of Labor Laws pursuant to Article 128 of the Labor Code, as renumbered".