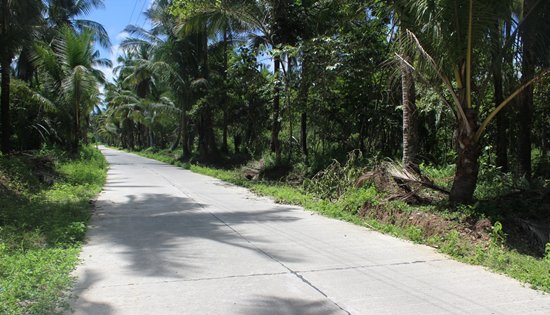 Completed construction of farm-to-market road in Brgy. Calaghusan-Caltayan in La Paz, Leyte.
DPWH bids out 15 barangay road projects in Leyte
By DPWH 2nd LED
June 26, 2019
CARIGARA, Leyte – The Department of Public Works and Highways field office here will kick off construction of 15 barangay road projects funded under the General Appropriation Fund (GAA) of 2019.
President Rodrigo Duterte signed the budget on April 15 with some vetoed items including the P75 billion insertions applied by congressmen covering public works projects.
According to Gerald Pacanan, DPWH Leyte 2 head engineer, implementation of the 2019 projects was affected by the delayed approval of the annual budget.
"This is the reason why we are urging contractors to strictly follow the contract duration of each project to avoid further delays. We also instructed the project engineers to closely supervise the ongoing works," Pacanan said.
Contractors are strictly required to start the project immediately after receiving the notice to proceed.
Among these projects are the road concreting at San Pablo village in Tabon-Tabon town; Maricum and Capilla both in Pastrana; Pawa, Malabca, Hapunan, Libas and San Esteban all in Burauen; Tabu village in Dulag town; Tarugan in La Paz; Balante, Bongdo, and Calbasag in Julita, and Calipayan in Mayorga.
The pavement of Capilla road in Pastrana is worth P2.97 million while the remaining 14 is budgeted at P1.98 million each.
"Once completed, this would eventually increase agricultural productivity and provide better access to basic social services such as health centers and educational facilities," Pacanan said.
He added that the district targets to bid out other 2019 projects before the month ends. This includes some road projects, multipurpose halls, and covered courts.
Overall, the department is task to implement 87 projects in Leyte 2 worth P1.57 billion funded under the 2019 GAA.