DPWH-Biliran DEO joins DPWH 121st Anniversary and Sportsfest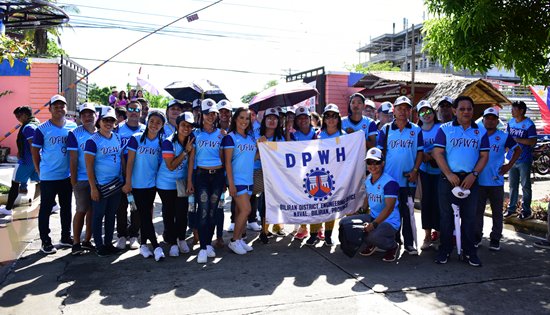 By DPWH-Biliran
June 25, 2019
NAVAL, Biliran – The Department of Public Works and Highways (DPWH) Biliran District Engineering Office (DEO) actively participated the DPWH 121st Anniversary and Sportsfest in a three-day event on June 19-21, 2019 at DPWH Regional Office (RO) 8.
All 13 DEOs including the RO of Eastern Visayas Region gathered together on the said event in the spirit of fun, camaraderie and sportsmanship.
The parade of participants commenced on the first day event at past 7:00AM en route from DPWH RO to Philippine Science High School to Leyte Provincial Hospital and back to DPWH RO. The said activity was followed with a thanksgiving mass at DPWH Multipurpose Hall and the Search for DPWH Best Muse 2019, respectively.
Engr. Jasiel Rasonabe represents Biliran DEO during the Search for Best Muse 2019 along with other lovely candidates from other DEOs and RO. The competition showcased their beauty and fit body to vie for the title Best Muse 2019 of DPWH.
Although Rasonabe didn't win, she said she was already happy to represent her district in the said competition. She congratulated candidate from RO for winning the Best Muse together with her 1st and 2nd runners up from Leyte IV and Samar 1st DEOs, respectively.
The first day event also showcases the 13 DEOs special delicacies from their respective places during the Exhibit Booth and Food Trade Fair.
Ms. Ma. Rosario Sorrilla, Rank and File Employees Association (RFEA) President of Biliran DEO said that among the products they have showcased are Biliran's delicious suman, kesong puti, tablea, and ampao.
Aside from the food fair, DEOs also exhibit their completed high impact infrastructure projects relevance to this year's theme dubbed: "DPWH: Gabay tungo sa Konkretong Pag-unlad", wherein Biliran DEO exhibits their completed road widening project along Biliran Circumferential Road. This is a competition won from Leyte 5th DEO with Northern Samar 2nd DEO as 1st place winner.
Meanwhile, the competition on cheer dancing highlights the first day activity of the 121st Anniversary and Sportsfest. The said competition proclaimed Southern Leyte DEO as the champion, followed by the RO and Leyte 5th DEO for the 1st and 2nd runners up.
After the cheerdance competition, Regional Director Nerie Bueno officially opens the sportsfest activities with the basketball ceremonial toss at DPWH RO covered court.
Participants were clustered into four teams for the entire sports fest activities.
Cluster I were composed of Leyte 1st DEO, Regional Office, and Tacloban DEO. Biliran DEO was teamed up with Leyte 2nd and Leyte 3rd DEOs, all under Cluster II. Cluster III were composed of Leyte 4th DEO, Southern Leyte DEO, and Leyte 5th DEO, while Cluster IV were composed of Samar 1st, Samar 2nd, Northern Samar 1st, Northern Samar 2nd and Eastern Samar DEOs.
Among the sports activities played were basketball, volleyball (men and women's division) and badminton. The games continued in the second day event with parlor games prepared by each DEOs.
The DPWH Got Talent featuring "All Man's Band" is the highlight activity on the eve of the second day anniversary. This showcased the talents of male DPWH employees regionwide.
Biliran DEO performers, Engr. Luisito Filemon Abad, Architect Wincello Nemenzo, Engr. Ronald Sebios and Engr. Ginisar Romero portray the musical group from the Philippines "Boyfriends" singing their hit songs "Dahil Mahal Kita" and "Sumayaw Sumunod". The said competition was won by Leyte 5th and Leyte 2nd DEO tied on championship while Samar 1st DEO and Leyte 3rd DEO placed 1st and 2nd runners up, respectively.
There was also a DPWH Executive Dance Competition held on the same evening of the second day event. Without proper practice, an impromptu dance presentation was performed from team Cluster II headed by District Engineers (DE) David P. Adongay Jr. of Biliran DEO and Gerard Pacanan of Leyte 2nd DEO with his Assistant District Engineer Cesar V. Makabenta. Luckily, the team still managed to win at 1st place next to Cluster III.
The sports championship games continued on the third day. This is also the last day of the event where winners of the different competitions were awarded.
Overall champion for the sports games are teams from Cluster I followed by Cluster III as 1st runner up, Cluster II as 2nd runner up and cluster IV as 3rd runner up.
Although have failed to bring home the bacon, the management of Biliran DEO expressed their congratulations to its employees who actively participated all activities in the region.
"It is not how you won or lose, but it is how you play the game," emphasized Mr. Bern L. Calomadre, Chief of Administrative Section.