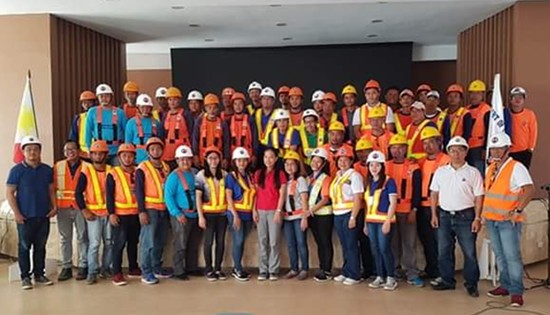 The participants of the said training from different districts of Region VIII together with the resource speakers and Engr. Ivy Grace M. Baculi from the Bureau of Maintenance (center, red polo shirt).
DPWH conducts maintenance enhancement training at Region 8
By RONALD M. SEBIOS
June 26, 2019
NAVAL, Biliran – The Maintenance Division of the Department of Public Works and Highways plays an important role in maintaining the national roads and bridges in the Philippines.
It aims to maintain a safe and passable road for the travelling public and responsible for the rectification of road defects that may arise from time to time.
Recently, the Department Public Works and Highways conducted a 3-day training/ seminar held at DPWH Regional Office VIII, Conference Room, Baras, Palo, Leyte on May 27-29, 2019 which is the "Maintenance Enhancement Training (MET)".
It was attended by the Maintenance Point Person's (MPP's) and Maintenance Crews.
After the 3-day course, the participants will be able to apply all the standards on routine maintenance (patching, crack/ joint sealing, pavement marking application and concrete re-blocking) in actual field and to execute road work safety and traffic management during performance of routine maintenance on site.
The resource speakers of the training from Regional Office were Engr. Ferdinand M. Fabile, Engr. Toribio Odtuhan, Engr. Louie Luxie Gumba, Engr. Joemar Villamor, Engr. Leonilo Jumagdao, and headed by Ivy Grace M. Baculi from the Bureau of Maintenance.
Biliran District Engineering Office representatives were Engr. Ronald M. Sebios (MPP), Engr. Frechbee L. Sabile (MPP), Joemar V. Manco (Heavy Equipment Operator) and the Maintenance Crews namely Jayvee Naranjo, Rodelito Marangga, Vincint Sangcap, and Junemar Machete.
Two days of the training were allocated for the discussion of the various topics such as Duties and Responsibilities of Maintenance Crew, D.O 41 Series of 2016, D.O. 93 Series of 2014, D.O. 168 Series of 2015, Coded Defects, Road Works and Traffic Safety, Pothole Patching, Concrete Re-blocking, Sealing of Cracks and Joints, Pavement Markings, and Malpractices in Maintenance work.
On the last day of the training, the participants were grouped into two and that day was allocated for Hands-on application of all the topics discussed. After the field works, the resource speakers gave a short examination to know if the participants really learned on the training conducted.