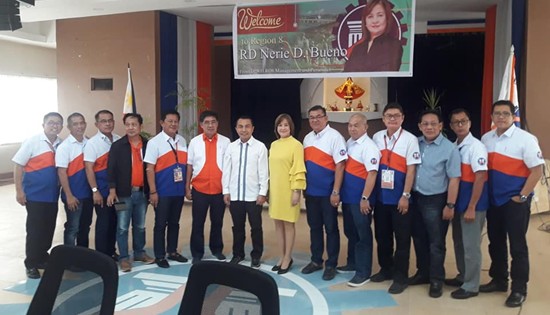 New DPWH Region 8 Regional Director (RD), Nerie D. Bueno (in yellow dress) meets district engineers of Region VIII during the turn-over ceremony of outgoing Regional Director Edgar B. Tabacon (left side of RD Bueno) on August 30, 2018 at DPWH Regional Office, Baras, Palo, Leyte.
DPWH Region 8 has new regional director
By DPWH-BDEO
September 6, 2018
NAVAL, Biliran – The Department of Public Works and Highways (DPWH) Region VIII warmly welcomes new regional director in the person of Engr. Nerie D. Bueno in a simple turn-over held on August 30, 2018 at DPWH Regional Office, Baras, Palo, Leyte.
Bueno replaced outgoing Regional Director Edgar B. Tabacon who now assumed post as new regional director of Region VII.
The lady regional director was the former regional director of DPWH-Cordillera Autonomous Region (CAR) prior to her assignment in Region VIII.
Bueno is one of the dynamic women executives in the Department who consistently attest that female engineers can rise as leaders in a male-dominated profession. With thirty-five (35) years of government service, she broke new grounds for Filipino women engineers pursuing leadership in widely known male-dominated technical organizations, through her appointment in key positions in the regional level.
She was officially appointed as Regional Director on November 23, 2015 in DPWH-CAR, shortly after assuming the post of OIC- Regional Director of DPWH Region II on September 18, 2016.
On September 19, 2016, she was reassigned to DPWH Region I, but after barely two months, she was transferred to DPWH-CAR on November 11, 2016.
In DPWH-CAR, she was the first woman to assume the positions, Assistant District Engineer (March 22, 2003), District Engineer (December 10, 2003), Assistant Regional Director (April 8, 2009) and Regional Director. Through the years, she remained steadfast to the values of discipline and diligence in her work, with a firm conviction that having high integrity and commitment to public service is always rewarding.
People regarded her as the "catalyst of change" and "game changer" when Region II achieved Second Rank nationwide in physical accomplishment in October 2016 when she was reassigned as Regional Director.
In 2017, Director Bueno turned the fate of CAR from being the worst to the most improved region, by bringing its regional ranking from 16th place in August 2018 to 3rd place by the end of the year, the highest rating that the DPWH-CAR has achieved since its creation in 1988.
Regional Director Bueno believes that life has no short-cuts through doing things right the first time. As a public servant, she conducts herself with simplicity, schedules meeting with the regional and district officers, provides venues for conflict resolution and promotes eco-friendly workspaces.
In her first day of office, Bueno holds a special meeting with district engineers of the 13 district engineering offices of the region tackling issues and various concerns especially in the implementation of infrastructure projects. On the second day, she meets the Assistant District Engineers from 8:00AM to 10:00AM and the Monitoring Engineers until 12:00PM.