89% of Filipinos demand a way out of dirty coal energy, slam DENR for continued permit issuance and approval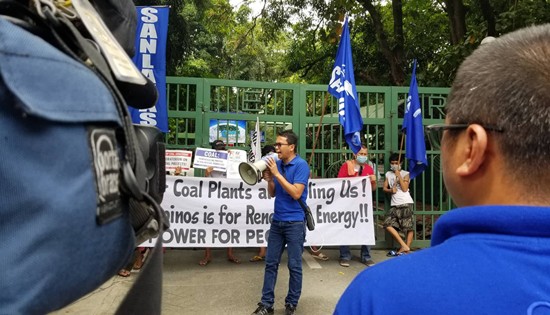 Press Release
September 6, 2018
QUEZON CITY – Members of coal-affected communities, electric consumers, climate justice and environmental groups stormed the Department of Environment and Natural Resources (DENR), conducted simultaneous actions in different areas in the country, to press Secretary Roy Cimatu and other local officials to put a halt on the country's 'coal obsession' and listen to the demand of the 89% of the Filipinos who do not want energy to be sourced from dirty coal.
This is based on the recently released Pulse Asia survey that says almost 9 out of 10 Filipinos want to shift to renewable energy source.
Currently, the Philippines houses twenty-eight (28) operational coal plants and twenty-eight (28) more coal projects in the pipeline. Said environment agency is expected to play a major intervention in the issuance of environmental compliance certificate (ECC) especially those projects waiting for approval for construction.
Groups participated in national day of action against coal said that the DENR's current position on the said issue does not only worsen the current state of our environment but also enables a rise in electricity prices all over the country.
"Nariyan na nga ang pagpapabaya ng Department of Energy sa patuloy na pagtangkilik sa mga korporasyon na nagpapahirap sa mamamayan. Dumagdag pa ang DENR sa pagpayag nang pagpayag sa pagpapatayo ng maraming planta ng coal sa ating bansa," said Mercy Donor of PIGLAS Kababaihan. "Patay na nga ang mga mamamayan sa polusyon, patuloy na pagtaas ng mga bilihin, patay pa sa mataas na presyo ng kuryente na hindi namin malaman kung saan namin kukunin ang pambayad," added Donor.
"The negative impacts of coal are being felt by every consumer and much more by the communities living in the coal sites," said Teody Navea of Cebu City. "The resistance against coal is growing in many parts of the country. Aside from killing us with every breath we take, these coal plants are stealing money from our pockets in the disguise of our electricity bills," added Navea.
Meanwhile in Mindanao, electricity prices soared up as new five (5) coal plants were recently inaugurated. Said rise in electricity prices convinced majority of the residents of the island to shift to renewable energy.
Currently, electricity cost in some parts in Mindanao is 1 to 3 pesos higher than the price in Metro Manila amounting to almost P13/kWh in Ozamiz City and around P11/kWh in South Cotabato.
"If people in Mindanao are paying electricity prices as expensive as those who are Manila, whose minimum wages are way higher than ours, what kind of lives do they expect to experience by the workers and their families here," said Roldan Gonzales of GITIB Inc. "These workers have families – children in particular who have special needs. This reliance on coal does not only damage our health and our pockets, it also kills the future of our children," added Gonzales.
Gerry Arances, Executive Director of the Center for Energy, Ecology and Development urges the government to execute what is being told by the numbers and by the communities affected by the said impacts.
"All stars are aligned. The rate of disapproval of using coal as our source of energy is clearly equal to the intensity of the impacts and sufferings of the people. It is about time that we shift to clean, affordable and renewable energy that can aid people to live their lives better free of high prices and worsening health conditions," concluded Arances.
Aside from the main action in front of DENR Main Office, sites from Sual, Pangasinan, Sariaya, Quezon, Atimonan, Quezon, La Union, Cebu City, Tacloban, and Ozamis also joined the said nationally coordinated protest.