Army and PNP troopers recovers firearms in San Isidro, Leyte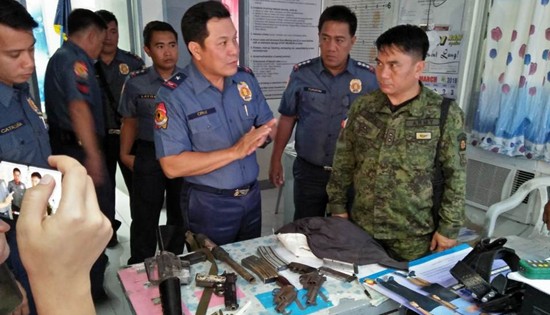 By DPAO, 8ID PA
May 14, 2018
CAMP LUKBAN, Catbalogan City – Joint troops of 78th Infantry (Warrior) Battalion, (78IB) 8th Infantry (Stormtroopers) Division, Philippine Army and Quick Reaction Team ( QRT) from Leyte Police Provincial Office (LPPO) seized high powered firearms and several war materiel at Sitio Sambalawan, Barangay Basod, San Isidro, Leyte on May 13, 2018 at 11: 35 in the morning.
According to Lt. Col. Danilo I Dupiag, Commanding Officer of 78th Infantry Battalion, while conducting ocular visit to his troops deployed in Isabel, Leyte, he received a report that the Quick Reaction Team of 2nd Company, Regional Public Safety Battalion (RPSB) of Police Regional Office VIII (PRO8) encountered undetermined number of unidentified armed men believed to be members of Private Armed Groups (PAGs) at Sitio Fortuna, Tabango, Leyte at 10 a.m. of May 13, 2018.
Troops of 78IB led by Lieutenant Jonathan R. Mayono and QRT of Leyte Police Provincial Office (LPPO) led by Police Senior Inspector Layug conducted joint pursuit operations at Sitio Sambalawan, Barangay Basod, San Isidro, Leyte. While tracking down the withdrawal route of said armed groups, they recovered one 5.56mm M16 colt rifle with serial number 4852268, one caliber 45 colt commander pistol with serial number 55682, one caliber .357 pistol with defaced serial number, one caliber .38 slub nose with defaced serial number, one improvised homemade shotgun, two empty long magazine of M16 rifle, two pieces live ammunition of 12-gauge shotgun, two loaded magazines of cal. 45 and several live ammunitions hidden under the bushes 30 meters away from the Barangay.
Lt. Col. Dupiag turned over the recovered firearms and other items to PI Gary Zaldy Ligutan, COP, MPO, San Isidro, Leyte on 4:30 p.m. of the same day in the presence of PCSupt. Gilberto DC Cruz, RD, PRO8 as part of the evidence in the filing of the case.
Maj. Gen. Raul M Farnacio AFP, Commander, 8ID expressed his appreciation to the operating troops of 78IB and PRO8 for their dedication and commitment in safeguarding the communities against Private Armed Groups while executing security preparations for the purpose of ensuring free, orderly, peaceful and credible conduct of 2018 Barangay and Sanguniang Kabataan Elections.