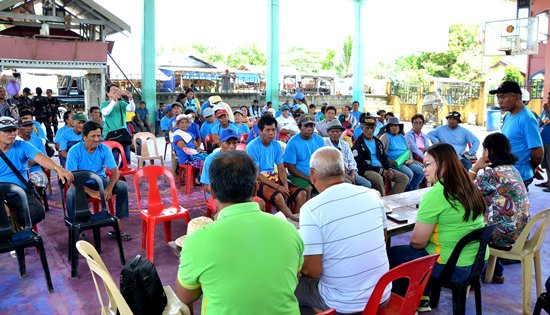 DAR officials headed by Regional Director Sheila Enciso (seated by the table, 2nd from R) brief the agrarian reform beneficiaries prior to the latter's physical installation into the former Capahi landholdings.
Agrarian beneficiaries take possession of awarded lands
By JOSE ALSMITH L. SORIA
May 11, 2018
ORMOC CITY – "Nalipay lang ko nga makabalik ko sa akong gitrabaho nga yuta." (I'm just happy to be back to the lot I was tilling.)
These were the words uttered by Clemente Arnaiz when asked why he broke into tears when the writ of execution issued by Leyte Provincial Agrarian Reform Program Officer (PARPO) Renato Badilla was read to them by sheriff, Joseph Catingub on April 24.
The writ of execution ordered the installation of the nine agrarian reform beneficiaries (ARBs) into three landholdings previously owned by Rustico Capahi.
Arnaiz, now 66, together with the eight other ARBs received their certificates of landownership award (CLOAs) from the Department of Agrarian Reform (DAR) to the above-mentioned properties two decades ago but were deprived entry by the previous landowner. According to Arnaiz, they were farmworkers in said landholdings.
DAR made several attempts to install them but failed due to strong resistance from the landowner.
On April 24, with the support of KAISAHAN, a non-government organization (NGO) assisting these farmers, the more than two decades of waiting ended when the nine ARBs were finally installed peacefully into their awarded lots under the Comprehensive Agrarian Reform Program (CARP).
DAR Regional Director Sheila Enciso, assisted by Badilla, led the physical installation of the ARBs into the three Capahi landholdings situated in Barangay Sabang Bao in this city following an agreement reached between the DAR management and the previous landowner.
According to Enciso, the landowner asked the DAR management that they be allowed to choose their retention area as stated under the law, among others.
Further, Municipal Agrarian Reform Program Officer (MARPO) Perpetua Sabaldan, who takes charge of the installation activities, disclosed that 26 more actual tillers in the three landholdings, with an aggregate area of 16 hectares, were likewise identified as potential beneficiaries.
This season, Enciso told the farmers, "you can already start tilling your respective areas", but reminded them not to forget their obligations to pay the tax as the owners now of the land.
Meanwhile, Sabaldan likewise disclosed that in September last year, 39 other ARBs were also installed into eight landholdings situated in Barangay Balion with a combined area of 36.8 hectares. The properties were also owned by the Capahis.