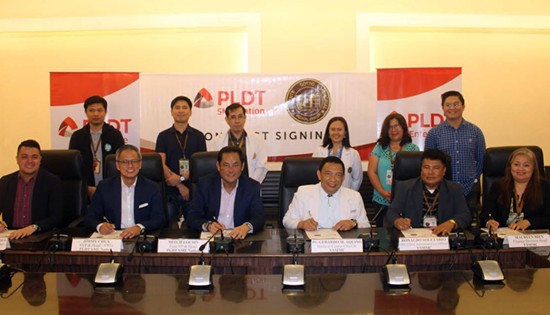 L-R: Business Head for Regional Visayas Niño Nanquil, AVP & Head for Corporate Relationship Management of PLDT SME Nation Jimmy Chua, FVP & Head of PLDT SME Nation Mitch Locsin, VSMMC Medical Center Chief II Dr. Gerardo Aquino, VSMMC OIC Chief Administration Officer Ronaldo Soletario, VSMMC Finance Division Head Maureen Bien.
PLDT SME Nation partners with VSMMC, drives digitalization of public healthcare sector
Press Release
May 11, 2018
CEBU CITY – PLDT Enterprise, the B2B arm of the country's leading ICT and digital services provider – through its small and medium business group, PLDT SME Nation – formalized its partnership with the Vicente Sotto Memorial Medical Center (VSMMC) in Cebu City, one of the country's premiere public health institutions.
Presently, the hospital serves as a treating and teaching facility for a diverse set of medical specializations and sub specializations, including internal medicine and neurosurgery. In an effort to further improve their services, VSMMC sought to upgrade their day-to-day operations through innovative technology.
With PLDT's provision of structured cabling, cloud services and premium connectivity, VSMMC's digital and communications technology capabilities are said to be comparable to most private corporations and organizations, including banks and insurance providers – signifying a promising future for the local public healthcare and service industry.
"I have to commend Dr. Aquino and the entire VSMMC management team for taking the lead in adopting digital practices to elevate their healthcare services. Even before the mandate for government agencies to move towards cloud, you were already at the forefront of disruptive medical and public service," said FVP & Head of PLDT SME Nation Mitch Locsin.
"We are honored to be part of your great leap towards a digital future and we look forward to being a part of your journey for more years to come," he added.
Dr. Gerard Aquino, Medical Center Chief II for VSMMC, said that the medical facility had chosen to partner with PLDT precisely because of its expertise in providing pertinent services and solutions. "No one wanted to believe that a public hospital could be powered by fiber optics, but I'd like to thank the PLDT Group for responding to our vision of growing into the digital world. With the company's track record as the most trusted service provider in the country, I don't think we have anything to fear throughout this period of innovation."
PLDT SME Nation continues to deliver the most up-to-date solutions, further advancing digital transformation across the country and region, in line with its mandate of nation-building.