Millenials dominate 11th Olango Challenge in Cebu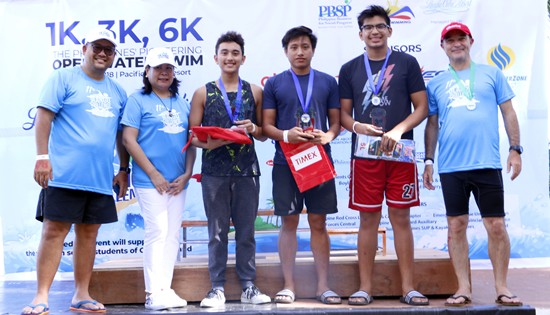 By PBSP
May 9, 2018
CEBU CITY – Twenty-year-old Jux Keaton Solita and 15-year-old Raven Faith Alcoseba were declared 6-kilometer competitive champions during the 11th Olango Challenge organized by Philippine Business for Social Progress (PBSP) and Philippine Swimming, Inc. (PSI) in Cebu last Saturday.
Solita, a student of University of Santo Tomas (UST) in Manila, bested his contemporaries, including Cebu elites Alfred Latrell Pacabis and Michael Ichiro Kong, with a time of one hour, twenty-three minutes, and 15.56 seconds.
Alcoseba, on the other hand, thwarted former champion Karen Mae Indaya's chance of a three-peat by besting the 6-kilometer competitive female swim in 1:33:13.87. Seventeen-year-old Indaya, meanwhile, finished second with 1:36:58.37, followed by Erica Lukang, 23, with 1:37:59.88.
For the 6-kilometer competitive male swim, Batangueno Ron Villamor, 16, came second with one hour, 24 minutes, and 17.69 seconds, while fellow UST swimmer Allen Miranda finished third with 1:24:30.60. This is the first Olango challenge that featured 6K competitive male winners not hailing from Cebu.
Meanwhile, Charles James Lipura (53:33.02) and Justine Garrido (1:02:46.28) took the 3K competitive male and female titles while Renz Corbin emerged as the 3K fun champion with 53 minutes and 49.02 seconds. Kevin Alvarez and Jose Antonio Aboitiz had a 1-2 finish in the 6K fun side with a time of 1:00:29 and 1:04:28, respectively.
Around 130 swimmers participated in the country's premier open water swimming event organized for the benefit of senior high school students on Olango island.
The Olango Challenge follows the format of the open water swim category of the Beijing Summer Olympics in 2008 and will feature the competitive men's and women's 6K and 3K divisions; and the 6K, 3K, and 1K fun categories. Swimmers navigated a rectangular race course fronting Pacific Cebu Resort.
Swimming for classrooms
It was the first time for 14-year-old Francexianour Travero to join the 6-kilometer competitive swim of the Olango Challenge, making him the youngest swimmer of the category. In spite of having previous experience in other open water swimming events, he finds the Olango Challenge the most challenging because of the distance and the current, making his finish one of the most fulfilling experiences of his life.
"What also makes it special is the idea that I, a 14-year-old, was able to contribute to students like me," he said.
Travero is joined by his uncle and friends from Leyte's Energy Development Corporation, who have been supporting the event since last year.
Supporting organizations and government agencies helped ensure the safety and success of the event. Officers and rubber boats from the Navy were deployed while the Philippine Coast Guard Auxiliary provided 14 marshals around the racecourse. A combined 30 lifeguards from the Philippine Red Cross-Lapu-lapu Chapter and PSI, 18 paddler-marshals from Island Buzz Philippines SUP and Kayak Adventures, and 10 divers from Kapit Sisid Free Divers also served as marshals of the event.
Doctors and nurses from the Cebu Provincial Health Office as well as paramedics and ambulance unit from the Emergency Rescue Unit Foundation were also present. Fifteen radio communicators from the Kabalikat CVCOM, meanwhile, ensured the smooth coordination between the safety teams.
Launched in 2008, the event has gathered over 900 swimmers and raised more than P15 million to fund nine classrooms in Candagsao, Caw-oy, Tungasan, and Talima elementary schools on Olango island.
It also supported the senior high school education of 190 students from Sta. Rosa and Nemesio-Epifania Memorial National High Schools through the provision of shielded metal arc welding equipment, sewing machines for dressmaking classes, immersion uniforms, assessment fees for national and technical vocational certifications, and monthly allowances for the students.
This year, the proceeds from the swim meet will be used to provide laboratory equipment for more schools on the island.
The event is sponsored by Aboitiz & Company, Dow Chemical Philippines, Inc., Oriental Port & Allied Services Corporation, Mactan Enerzone, the Visayan Electric Company, Ramon Aboitiz Foundation, Inc., City Savings Bank, FINIS, GMR Megawide Cebu Airport Corporation, TMX Philippines, Inc., MEDICard Philippines, PASAR Corporation, Monde Nissin Cebu, Philpacific Insurance Brokers And Managers, Inc., Philippine Long Distance Telephone Company, Pocari Sweat Philippines, Golden Prince Hotel & Suites, SM Investments Corporation, Cebu Trip Rent-A-Car, Scotty's Dive Shop, All Flip Flops, Boyla Diving Resort, Wellmade Motors & Development Corporation, Castle Peak Hotel, and San Miguel Brewery, Inc.