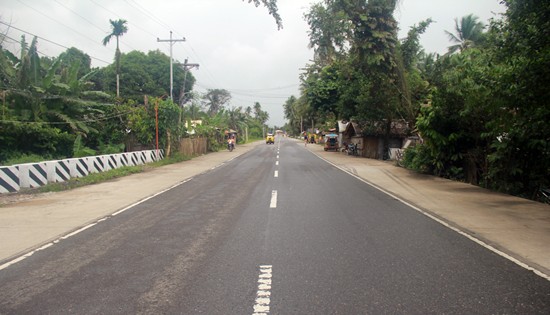 Improvement/Widening of DaangMaharlika (SM) (San Isidro-San Juanico Bridge), K0742+000-K0742+054; K0742+086-K0742+798; K0742+820-K0743+374.
DPWH: 2017 Projects at 91.34%
By MAE ANGELICA R. COMOTA
May 7, 2018
CALBAYOG CITY – The Department of Public Works and Highways Samar First District Engineering Office (DPWH-SFDEO) reports a 91.34% accomplishment on its 2017 Regular Infrastructure Projects.
According to District Monitoring Engr. Nena Dotado, as of April 30, 2018, 44 projects are completed while 15 are still ongoing. Most of these ongoing projects cost P50M and above and cover the improvement and widening of Daang Maharlika and the upgrading of the District's major bridges.
Setbacks in project implementation include problems with Road Right-of-Way acquisition and the arrival of Typhoons Urduja and Agaton during the latter part of last year.
The District office has put in place measures to reach its targets, citing proper coordination between the District's project engineers and the contractors as the key to speeding up project implementation.
"I have already issued a memorandum directing our project engineers to fast track the remaining 2017 projects. We also now have a monthly coordination meeting with contractors so that any issues and concerns regarding project implementation can be quickly and easily resolved," said Construction Chief Engr. Carlos Rañola.
On top of the 2017 projects, SFDEO is also implementing 146 regular infrastructure projects for 2018 and records a 4.11% accomplishment as of date of report.