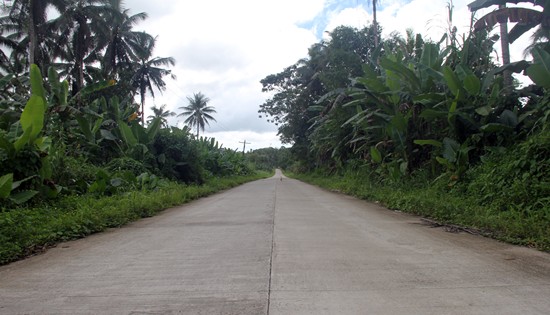 A completed road section of Gandara-Matuguinao Road.
P100-M Gandara-Matuguinao road to be completed this 2018
By MAE ANGELICA R. COMOTA
May 10, 2018
CALBAYOG CITY – DPWH Samar First District Engineering Office is set to complete the third and final phase of the road connecting the municipalities of Gandara and Matuguinao this 2018.
This project covers the concreting of 3.5 kilometers of road with 80 meters of slope protection works and 1.5 kilometers of concrete lined canal. It has an allocation of P100 million from the 2017 Payapa at Masaganang Pamayanan (PAMANA) Fund.
Considered as one of the two biggest rice-producing municipalities in the province, this road will provide faster and easier transport of goods between Gandara and Matuguinao which increases economic activity.
"Concreting of this road is part of the District office's multi-year programming. We started construction back in 2014 and as of last year, we have received a combined allocation of P270 million and over 10 kilometers of road have been concreted," said Project Engr. Allan Lanuza.
The District office will soon hold a ground breaking ceremony later this month.