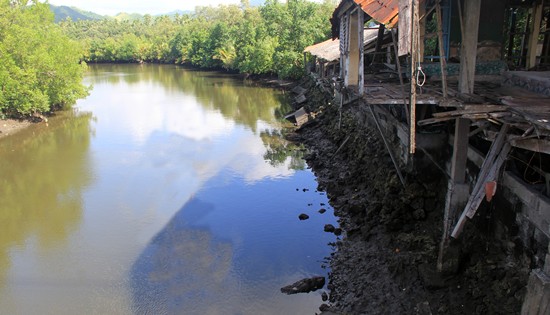 The construction of flood control structure along Tinambacan River will start on this site.
P80 million earmarked for Tinambacan River flood control
By MAE ANGELICA R. COMOTA
March 5, 2018
CALBAYOG CITY – The Department of Public Works and Highways Samar First District Engineering Office has allocated P80 million for the construction of 634 linear meters of flood control (FC) structures along Tinambacan River.
This project as well as the P71 million flood control structure along Jibatang River are two of the major FC projects to be carried out this 2018. The District office now has P671 million worth of flood control projects, P151 million more than the existing P520 million previously reported.
The area near Tinambacan River is one of the low-lying areas in the City. Residents and their properties are greatly affected when water level rises due to continuous heavy rains during typhoon season. This project mitigates the occurrence of such, thereby decreasing fatalities and damage costs while maintaining the safety of residents.
The project's Notice to Proceed (NTP) was issued to CTC Builder & Supplies Inc. and Joint Venture VCD Const. & Supplies last February 9, 2018.
It is expected to be completed within 240 calendar days.