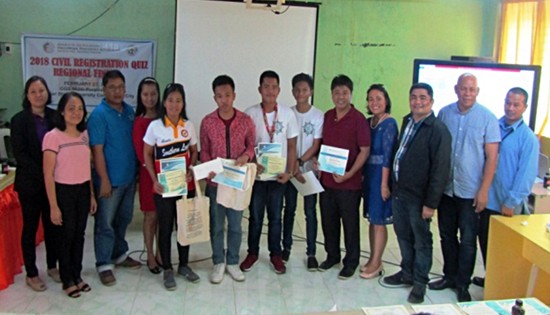 (L-R) Leyte OIC Bernadette R. Montana, Samar PSO Riza N. Moraleta, EVFPACR President Marvin O. Morallos, Biliran OIC Renavil V. Cueva, Ma. Corazon T. Sacro (Coach, Inchon NHS), Siehr C. Maureal (1st Place), Troy B. Sumalinog (3rd Place), Ralph John Y. Delima (2nd Place), Edgardo P. Goron (Coach, Bato SF), RD Wilma A. Perante, SS-II Venerando D. Lagrosa, E.Samar PSO Ronnie A. Bajado, AO IV/CRS Supervisor Joselito C. Jornales.
PSA-RSSO 8 conducts 2018 regional civil registration quiz
By PSA-8
March 1, 2018
TACLOBAN CITY – The Philippine Statistics Authority Regional Statistical Service Office 8 (PSA-RSSO 8), in collaboration with Eastern Visayas Federation of Provincial Associations of Civil Registrars (EVFPACR), successfully conducted the 2018 Regional Civil Registration Quiz on 27 February 2018 at College of Graduate Studies Multi-Purpose Hall, Samar State University, Catbalogan City, Samar. The contestants were Grade 10 students from different secondary schools in the region.
Winners from the 2018 Provincial Civil Registration Quiz conducted by the different Provincial Statistical Offices in the region represented their respective provinces in the regional contest.
Siehr C. Maureal of Ichon National High School, Macrohon, Southern Leyte, emerged as champion, followed by Ralph John Y. Delimaas 2nd place and Troy B. Sumalinogas 3rd Place, who were both from Bato School of Fisheries, Bato, Leyte.
The regional quiz was one of the activities of PSA-RSSO VIII to celebrate the 2018 Civil Registration Month with the theme, "#napapanahongCRVS". This contest is being conducted yearly to encourage the youth to participate in the global advocacy of getting everyone registered and promoting awareness on the importance of civil registration in the lives of every Filipino.
Mr. Marvin O. Morallos, President of EVFPACR, Mr. Venerando D. Lagrosa, Statistical Specialist II of PSA-RSSO 8, and Mr. Joselito C. Jornales, Administrative Officer IV/CRS Outlet Supervisor of PSA-RSSO8, sat as board of judges, while Ms. Wilma A. Perante, Regional Director of PSA-RSSO 8, served as Quizmaster. Winners were awarded with plaques, cash prizes, certificates, and PSA tokens.
The years 2015-2024 was declared as CRVS Decade pursuant to Proclamation 1106 issued on 20 August 2015 and signed by then President Benigno S. Aquino III.