SFDEO employees undergo VRP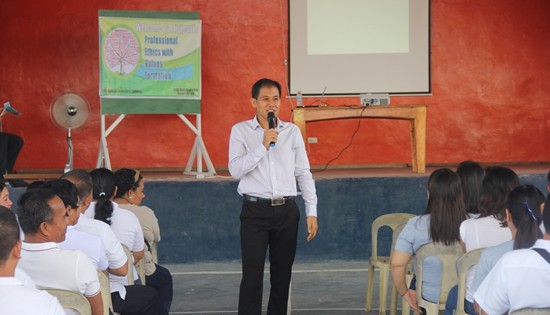 By APRIL FATIMA DIRA-VILLANUEVA
February 27, 2018
CALBAYOG CITY – Samar First District Engineering Office undergoes a Values Restoration Program facilitated by Deputy National Director and Training Facilitator Mr. Nathaniel A. Saquiban from the Council for the Restoration of Filipino Values (CRFV) on February 26, 2018 at DPWH Multi-Purpose Hall.
CFRV is a corruption prevention unit of Transparency International Philippines, grounded on the core values of Love of God, Stewardship, Respect for Authority, Wisdom of Truthfulness and Service to People. It is charged with the implementation of the Values Restoration Program (VRP) in line with the Duterte Administration's thrust for a graft-free society.
According to Mr. Saquiban, "Words have power, which is why the Civil Service Commission requires for declarations to be recited during the weekly flag ceremony." In line with this, Mr. Saquiban asked the DPWH employees to shout out the following affirmations and encouragement:
"I am the best! You are the best! We are the best! God is the best, the Philippines is blessed!"
"I am a part of a finishing generation of Breed without Greed."
"A radical opposition to corruption"
"Godly seeds in the land who have chosen to make a difference."
"Standing up against all forms of wickedness and winning but by righteousness."
The banner of CFRV is "righteousness exalts a nation but sin is a disgrace to any people." Mr Saquiban urged the participants that it's time to bring back God into our nation and live as righteous people on Earth.
"We need to make it a point that there is an inward change, otherwise all our efforts will be put to knot. Everything will be futile. We must be a representative of God. We declared we are Pilipino, when we say Pili na, pino pa. We are a chosen race and we must all be refined race. So there has to be personal change so that there will be an organizational change. And if there is an organizational change there will be societal change and national change. But it starts with you and with us so there will be a national change. Are you the expected one? Or shall we look for another? It takes one decision for change. Just one person serious to create an impact, to create a history, to effect change in the office," as Mr. Saquiban eloquently explained.
"I'd like to thank Mr. Nathaniel Saquiban for a very informative discussion of Professional Ethics with Values Formation. We are very fortunate because the Duterte Administration is going for a change and values formation is reinforcing and enhancing what we have relegated in the background in the past. So it's an opportune time to assess the values that we have especially that we are public servants. This forum is just what we need," said Administrative Section Chief Ma. Nenita Gomez for her closing remarks.