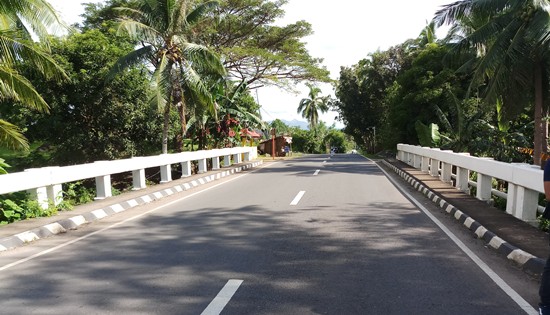 Site for the P25M widening of Looc Bridge (B00035br) project along Biliran Circumferential Road, Almeria, Biliran.
DPWH-Biliran DEO to undertake bridge widening project at Almeria, Biliran
By CHELSEA QUIJANO-SALLOMAN
March 1, 2018
NAVAL, Biliran – The Department of Public Works and Highways Biliran District Engineering Office (DPWH-DEO) will implement a bridge widening project for this year.
Engr. Rosario B. Rosete, Chief of the Planning and Design Section of Biliran DEO said that P24M budget is allocated to widen the Looc Bridge (B00035BR) along Biliran Circumferential Road located at Almeria, Biliran funded under General Appropriation Act (GAA) of FY 2018.
According to Rosete, this is the second bridge widening project to be implemented by the District Office. The first bridge to be widened on this province is the Anas Bridge in Naval, Biliran which is to be implemented by the DPWH Regional Office under FY 2017 budget.
"The Looc Bridge was prioritized by the Central Office because the approach road of the bridge at Kawayan side was already widened," she said.
Major scope of work for the project includes construction of two additional lanes of the bridge, one lane on each side of the existing bridge.
The said network development project is designed to provide a wider and safer roads for the increasing vehicular users along Biliran Circumferential road with at least 5000 road users to benefit on this project.
Rosete said that the project is still under the Preliminary and Detailed Engineering Stage, awaiting result of soil exploration for the bridge.
P1.8B worth of Infrastructure projects is allotted to Biliran DEO this year with 63 total projects wherein 61 are to be implemented by the District Office and two by the Regional Office. This is first time that the district passed the one billion mark of infrastructure funds as a result of President Rodrigo Duterte's "Build, Build and Build" Program.