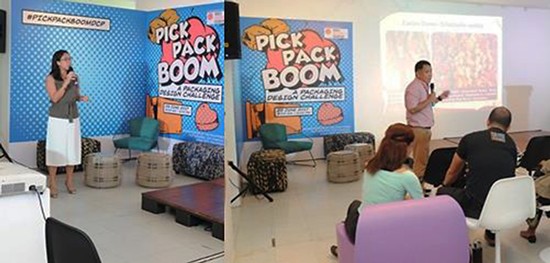 In photo (L-R): Anna Meloto-Wilk of Gandang Kalikasan, Inc. and Rex Puentespina of Malagos Chocolates discussing the design and packaging challenge before the participants of the Pick Pack Boom Design Challenge.
DTI intensifies design and packaging campaign for PH brands
By DTI-TIPG-DCP
July 31, 2017
MAKATI CITY – In its effort to further support Philippine brands in accessing the global market, the Department of Trade and Industry's (DTI) Design Center of the Philippines recently held a design challenge for young design professionals dubbed as "Pick Pack Boom" at the exhibition hall of Design Center in Pasay City.
The one-day packaging design challenge urged young design professionals to develop and recreate sustainable and locally-sourced recycled and sustainable packaging materials for the two world-renowned Philippine brands namely, Human Nature and Malagos Chocolates.
Participants developed a prototype for Human Nature's bath soap bar and Malagos' Chocolates' gift bag that took into consideration the concept of sustainable design. With the celebration of the World Industrial Design Day, the event also served as a support of the Design Center in this year's theme and focus on United Nations Sustainable Development Goal #12 of "Responsible Consumption and Production."
The design challenge featured Anna Meloto-Wilk from Gandang Kalikasan Inc., which produces Human Nature and Rex Puentespina of the Malagos Chocolates. Wilk and Puentespina both shared their respective brands, social entrepreneurship thrusts, and their local to global business narratives.
The event included design sprint sessions, which tested participants' ideation and design skills for the prototyping competition. The best prototypes included an origami concept, integrating konyaku as a material to protect and reinforce the packaging for Human Nature's bar bath soap; and the graphic storytelling of Malagos' tree-to-bar single origin cacao, incorporating the terroir elements for the Malagos Chocolates gift pack. All prototypes developed during the session will be turned over to Human Nature and Malagos for further development.
The Design Center of the Philippines is a member of the World Design Organization (WDO), and is committed to the use of design as a tool for improving the quality and competitiveness of Philippine products.
The WDO, formerly known as the International Council of Societies of Industrial Design (ICSID), is an international non-governmental organization that promotes the profession of industrial design and its ability to generate better products, systems, services, and experiences; better business and industry; and ultimately a better environment and society.