FMR provides access to nearby markets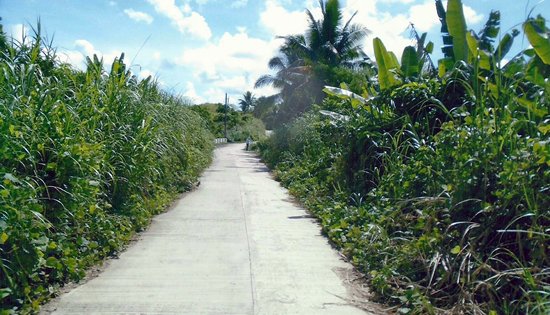 By Ma. NENITA Y. GOMEZ
July 27, 2017
CALBAYOG CITY – The concreting of the Farm to Market Road (FMR) of Brgy. Gajo to Brgy. Cinco helps villages to get their produce to the market faster and cheaper.
The 4.00 kilometers stretch of concrete pavement with an appropriation of P50 million starts in Brgy. Gajo, Sta. Margarita, Samar located southwest from the poblacion. The road project passes two barangays in between Brgys. Gajo and Cinco.
In these communities where the primary source of livelihood is farming, the concrete road is a welcome respite from the inconvenience of traveling to the poblacion and back. Not so long ago, farmers had to travel to and from the nearest town by foot or "habalhabal" (a single motorcycle transporting people and goods.) They spend P50 to P100 per sack of goods they needed to transport.
"We had to walk or travel for three and a half hours along slippery and muddy dirt road" explains Benny Moñal, a farmer from Brgy. Cinco. The poor road access had been a problem of the residents for a long time. Now that the FMR is completed, he is proud to showcase the new road in their barangay.
The project is funded by the Department of Agriculture and implemented by DPWH Samar First District Engineering Office under the government convergence program.
Farmers have better opportunities ahead of them now. The hauling cost of agricultural products and other goods has been reduced by thirty percent (30%). Families in these barangay also have more access to health centers and schools.