DPWH Samar I allocates P50M road project for farmer's benefit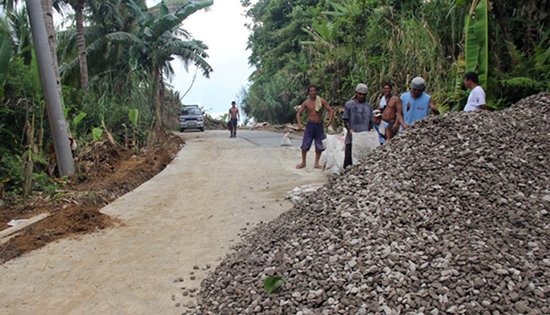 By BON JOSEPH N. ASTILLA
July 27, 2017
CALBAYOG CITY – Samar First District Engineering programmed P50 million under GAA CY 2017 for the realization of road construction from Brgy. Curry to Brgy. Avelino which promises a livelier economic activity to localities that produce abaca, various root crops and coconut products.
Located in the hinterlands of the Municipality of Sta. Margarita, Samar, the project covers concreting of 2.2 kilometers of road which also includes installation of drainage and slope protection and grouted riprap. From a three (3) hours travel time from Brgy. Curry to Brgy. Avelino, it is anticipated to be significantly reduced to less than an hour. This will surely benefit almost a hundred of families traversing the route and boost the farm-to-market productivity.
It is under contract with Victoria Development and Supply Corporation and as of June 25, 2017 it has already reach an accomplishment of 35%. The dirt road which used to be hiked by the farmers and residents going to and fro the said barangays will soon be fully concreted and is expected to offer easier, faster and more convenient travel and transport of agricultural products.