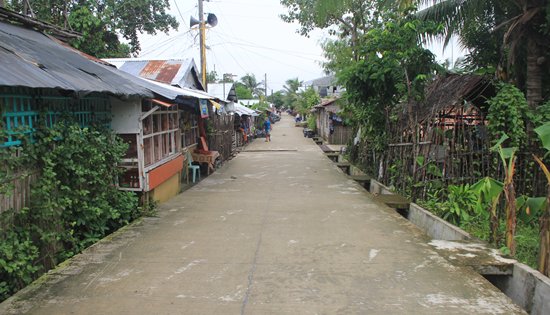 Construction of Road and Drainage in Brgy. Lambao, Sta. Margarita, Samar.
SFDEO hastens road and drainage project in 7 barangays
By Ma. NENITA Y. GOMEZ
July 27, 2017
CALBAYOG CITY – DPWH Samar First District Engineering Office, Calbayog fast tracks its construction/rehabilitation of roads and drainage projects in seven barangays within the Municipality of Sta. Margarita amounting to P150 million. These projects are funded under GAA 2016.
Constructed ahead of the rainy season, the projects located in Brgys. Lambao, Palale, Cagsumje, Monbon, Balud, Cautod and Napuro are measures undertaken to remove water from the road and its surroundings and control the rise of water table whenever heavy rainfall occurs.
Scope of works includes PCC pavement and one (1) single barrel RCBC with apron and wingwall, drainage, grouted riprap and one flood control structure.
According to the Project Engineers, the focus is on the low-lying areas in Sta. Margarita that have been experiencing damages due to flooding. This has been the usual scenario during continuous downpour since rainwater easily accumulates in these low-lying sections in the barangays.
The 6.08 kilometers stretch of road with drainage structures will solve flooding as more than thousands of residents affected by the sudden rise of water cannot contain their gratitude especially now that rainy season has set in.
A certain Jun Caberte in Brgy. Palale, intimated that the widened drainage structure can hold volume of garbage to declog the water channel. He expressed concern for the other barangays experiencing flooding and even recommended to the DPWH to construct the same.
As of this writing out of seven (7) road and drainage projects, four (4) projects are completed while three (3) projects are ongoing with a revised expiry date of August 16, 2017.
District Engineer Alvin A. Ignacio intends to fast track these projects as soon as possible to minimize the impact of heavy rainfall experienced by the locality every now and then.