Calbayog-Allen road section closed to traffic due to landslide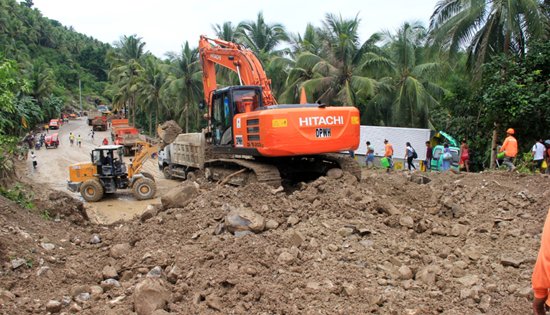 By MARIANETTE Y. GOMEZ
July 26, 2017
CALBAYOG CITY – Continuous heavy rains over the weekend weaken the soil surface on the mountainous sides along national road in the Calbayog-Allen Road Section, causing landslide including a rockslide as well. The road stretch from k0691+200-k0691+320 and k0691+130-k0691+200 all in Brgy. Caglanipao approximately 138 meters long was covered with almost 15,000 cubic meters of soil and rocks rendering the road unpassable.
The landslide happened on the evening of July 23, 2017, Sunday covering the road in Brgy. Caglanipao with a passing truck pushed to the other side of the highway as mounds of dirt, rocks and mud came rushing through.
Ongoing clearing operations are already undertaken in the vicinity since the very next day the disaster occurred. Meanwhile, DPWH Samar I installed barricades, warning signs and traffic advisory to warn the public of the condition of the road. Assisting DPWH Samar I in the area are DPWH Northern Samar I, bringing dump truck and backhoe, and contractors who lent their equipments like Aremar, ECI, Acme and B. Vicencio Constructions.
The hardwork of the group paid off when at around 9:00 in the evening of July 25, 2017, Tuesday, vehicles were already allowed to pass through. But even so, the work is not done yet as the other lane of the road is still covered with debris of dirt and the mountainous side is still unstable. To compromise with the traveler's plea but not lessen the progress of clearing out the highway, Engr. Romy M. Gumban, Chief of Equipment Management Division of Region VIII, suggested that vehicles would be allowed to pass through for an hour every 2 hours. At least this way, the community's day to day life will not be hampered that much.
It is good to note moreover that fieldworkers vow to restore traffic fully on the two lanes this week since good weather conditions prevails in the locality. However, District Engineer Alvin A. Ignacio warns the public of the danger of falling rocks and soil anytime. Motorists should be cautious as they pass along the landslide/ rockslide prone areas.