Full launch of PNTR set on August 1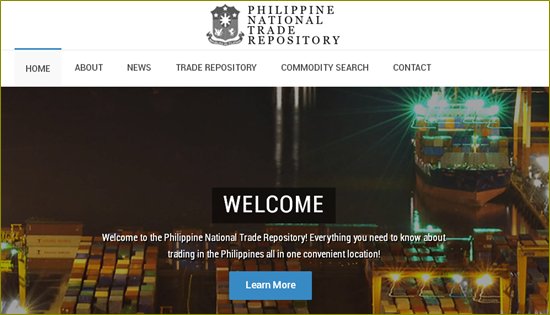 By DTI-IDTPG-BIS
July 28, 2017
MAKATI CITY – The Philippine National Trade Repository (PNTR) which is a web-based portal that provides a single source of comprehensive, accurate and updated trade information will finally be launched on August 1, 2017. Its establishment is an important component of the government's trade facilitation strategy. A more transparent trade environment will allow business easier access to information and facilitate their compliance with prescribed regulations. The ultimate effect will be to reduce the amount of time and costs in trade transactions.
The launching will be participated in by the Trade Regulatory Government Agencies (TRGAs), representatives from the private sector and selected importers accredited by the Department of Agriculture.
Expected to grace the event are the EXECOM Members of the Department of Trade and Industry, headed by the Undersecretary of the Industry Development and Trade Policy Group, Dr. Ceferino S. Rodolfo who will provide the keynote speech on behalf of DTI Secretary Ramon M. Lopez.
Dr. Cielito F. Habito, Chief of Party of the USAID- Trade Project is among the guest speakers, together with Mr. Walter Van Hattum, Head of Economic and Trade Section, EU Delegation to the Philippines.
One of the highlights of the event is the MOA signing between the Tariff Commission and the Department of Trade and Industry- Bureau of Import Services. The PNTR's seamless commodity search function became possible because of the wholehearted cooperation of Chairperson Marilou P. Mendoza of the Tariff Commission. The first three elements of the PNTR, the Tariff Nomenclature, the MFN tariffs and the Rules of Origin are linked to the Enhanced Philippine Tariff Finder (EPTF) of the Tariff Commission.
The formal launching of the PNTR portal will be presented by Mr. Roberto Galang of the International Finance Corporation, the World Bank's private sector arm. Through support from the Government of Canada, the project team led by Mr. Terence Chapman provided significant enhancements to the portal, in particular on the element of the Non-Tariff Measures and commodity search function.
Atty. Luis M. Catibayan, the PNTR Secretariat Head enjoins everyone to visit the PNTR portal at www.pntr.gov.ph. The PNTR is expected to benefit our stakeholders primarily Micro Small and Medium Enterprises (MSMEs) as the regulations and procedures administered and enforced by various government agencies are made readily accessible thru the internet.
Atty. Catibayan further stressed that the PNTR makes the regulations transparent and contributes to the ease of doing business. The PNTR's link to the ASEAN Trade Repository will allow MSMEs who are into exports to have accurate and updated information, including regulatory requirements for the movement of goods to and among ASEAN member states, thereby facilitating greater access to the ASEAN market.
For inquiries about the PNTR portal, please send email at info@pntr.gov.ph or visit: www.pntr.gov.ph/ www.dti.gov.ph.