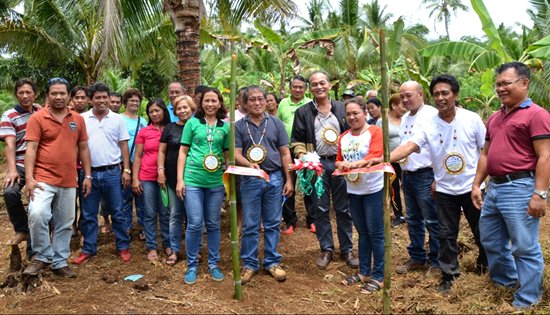 Chief Agrarian Reform Program Officer Francisco Diloy (center), Provincial Agriculturist Jaime Casas (to his right) and Daisy Monreal (to his left) cut the ceremonial ribbon at the proposed demo farm to signify the launching of the Farm Business School in Caibiran, Biliran.
Farm Business School launched in Biliran
By JOSE ALSMITH L. SORIA
July 28, 2017
CAIBIRAN, Biliran – Not even a bad weather nor a 6.5 magnitude earthquake, could stop the more than 30 farmer-members of three agrarian reform beneficiary organizations (ARBOs) from attending the launching of the first farm business school (FBS) established by the Department of Agrarian Reform (DAR) in this province, a day after a strong tremor was felt in Eastern Visayas.
Chief Agrarian Reform Program Officer Engr. Francisco Diloy explained that FBS is a season-long training with emphasis on marketing of farmers' products. For this training, a demo farm will be established at the NAMACA Farm in Barangay Maurang in this town for the application of what the participants will learn, Diloy said.
Participants, according to him, will be obliged to attend 25 sessions that may last for six months. It's just like attending a regular school. But in this case, DAR brings the school near to the farmers, he added.
FBS is in collaboration with the provincial and municipal agriculture offices, the local government unit and the interested ARBOs.
Provincial Agriculturist Jaime Casas disclosed that among the topics he will discuss in one of the sessions is "Good Agricultural Practices".
Though farmers here are already producers of various crops, DAR still invited the East-West Seed Philippines to provide input on vegetable production to enhance farming methods in the area.
Thelma Verutiao and Norma Verunque, both members of the Nagkakaisang Magsasaka ng Caibiran (NAMACA) Multi-Purpose Cooperative just brought with them their pre-school daughters to the said occasion as they were interested to learn how they could increase their income.
Verutiao disclosed that they are already producing okra and onions in their yard, but stressed that for their own consumption only. She added that she is interested to learn how they could earn from their garden for additional household income.
Other participants are members of the Bunga Agrarian Reform Cooperative and the Kapatagan Agrarian Reform Cooperative, based in adjacent towns, Cabucgayan and Culaba, respectively.
Lecturers from the DAR, provincial and municipal agriculture offices, East-West Seed Philippines and the farmer-participants agreed to meet every Friday for the sessions.
Municipal Agrarian Reform Program Officer (MARPO) Noel Salloman said they are expecting more participants when they start the first session, as according to those present, some failed to attend due to the strong quake experienced throughout the region.