Bayanihan Team Activity (BTA) send-off ceremony - first time in Catarman, LGU ready to support!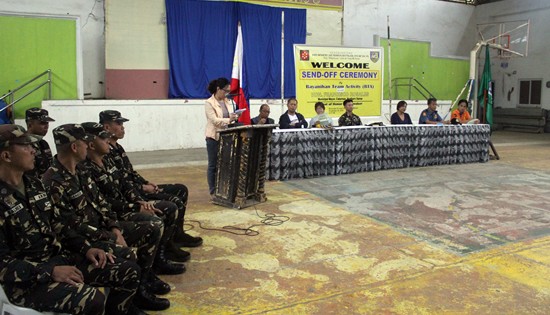 By 43rd Infantry Battalion, 8ID PA
November 21, 2016
LOPE DE VEGA, Northern, Samar – The Local Government Unit of Catarman, Northern Samar together with the 43rd Infantry (We Search) Battalion, 8th Infantry (Stormtroopers) Division, Philippine Army and other stakeholders conducted Send-Off Ceremony of Bayanihan Team Activity (BTA) on November 18, 2016, 9:00 o'clock in the morning at the Municipal Gymnasium.
Some Guests from other stakeholders such as the Philippine National Police, Department of Agrarian Reform, Department of Agriculture, Department of Environment and Natural Resources and Department of Labor and Employment participated and witnessed the send-off of the BTA operators.
Moreover, the two (2) barangay captains from Brgy. Quezon and Brgy. McKinley, both of Catarman, Northern Samar where the BTA Team will be deployed also attended the send-off ceremony.
The activity was designed to show to the people that the Bayanihan Team Activity is not a military activity alone, but it is a convergence of effort from other agencies of the government as stated in the IPSP "Bayanihan" wherein other stakeholders are involved from planning, implementation and evaluation phase.
Major Edgar A Gabia (INF) PA, officer-in-charge, 43rd IB said: "This activity will remind everyone that IPSP "Bayanihan" is a convergence of efforts to WIN the PEACE from other stakeholders or line agencies of the government, wherein the efforts are geared towards convincing the CPP-NPA-NDF to abandon the armed struggle and engage in Peace Talks/negotiations." He also encouraged the other line agencies specially the LGUs to do their share and give their whole hearted support for the successful conduct of the Bayanihan Team Activity".
Executive Assistant Arielyn L. Fernandez also said that: "In the absence of Mayor Franciso Rosales, I am representing on his behalf, pinapasabi ni Mayor na ang LGU ay handang tumulong at sumuporta sa mga gagawin ng mga BTA operators sa mga barangay na pupuntahan nila para maipaabot din ang programa namin".
"Actually, this is the first time na nagkaroon ng ganitong activity dito sa Catarman, on behalf of the Office of the Mayor, we express our thanks to the 43rd IB who exerted the effort to make this event become successful, and we hope that through them, the people of Brgy. Quezon and McKinley will be enlightened and stop their support and alliance with the NPA so that the said barangays will become more progressive and well developed." Fernandez added.