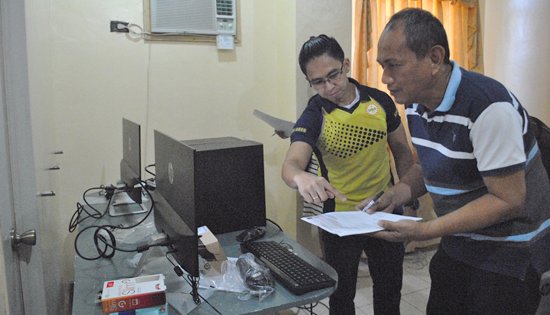 DILG-8 Information Technology Officer Luis de Asis shows LGU representatives the specifications of the computers donated by the Japanese government through ADB and DILG to fast track CLUP preparation.
ADB, DILG give out computers for 33 Yolanda LGUs to hasten CLUP preparation
By MYLES JOSEPH E. COLASITO
November 18, 2016
TACLOBAN CITY – Thirty-three (33) local government units battered by Super typhoon Yolanda (Haiyan) recently received computer sets and Global Positioning System (GPS) units and other equipment that would be useful in improving disaster resiliency in Eastern Visayas region.
The 33 LGUs in Eastern Samar, Samar and Leyte provinces benefited from the grant from Asian Development Bank under the Japan Fund for Poverty Reduction (JFPR) in cooperation with the Department of the Interior and Local Government (DILG), said Regional Director Marivel Sacendoncillo of DILG-8.
The computer sets received by these LGUs carried the highest specifications such as Core i7, powered with 16 Gigabyte Random Access Memory (RAM), with 1 Terabyte Portable Hard Drive, and a pocket wifi, more than enough for the needs of municipal planning units in processing data on the Comprehensive Land Use Plan (CLUP), said Dir. Sacendoncillo. These were paired with two (2) hand-held GPS units for creating maps of the terrain in the LGU.
Dir. Sacendoncillo projects that about ten (10) LGUs would be able to complete drafts of their respective CLUP maps by the end of the year. She added that two (2) other computers were donated to the DILG-8 Regional Office as backup servers for all data to be produced by the recipient LGUs.
"[The computers] are timely and appropriate assistance extended in our effort at accurate GIS mapping for our various programs, projects and activities. This will go a long way in making our communities safer and more secured," said Rosana Lumpas of the Municipal Planning and Development Office of Babatngon, Leyte.
The DILG-ADB Project forms part of technical component of the Japan International Cooperation Agency (JICA) assistance for LGUs affected by Super typhoon Yolanda under JFPR. The group held a series of coaching sessions to enable LGUs to update their CLUPs, which are documents designed to guide the long-term plans of the LGUs.