Youth empowered as advocates for peace and development in Matuguinao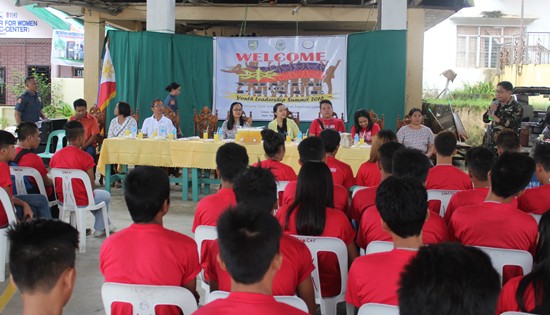 By 43rd Infantry Battalion, 8ID PA
November 15, 2016
LOPE DE VEGA, Northern, Samar – Youth Leadership Summit (YLS) was conducted on November 3-5, 2016 at Brgy Maduroto, Matuguinao, Western Samar with the joint effort of 43IB, 8ID, PA and LGU-Matuguinao, with the theme: "Initiating Youth Actions Towards an Empowered Generation".
The Youth Leadership Summit is one of the priority project of Hon. Melissa dela Cruz, Mayor of Matuguinao, Western Samar, it is composed of 106 youth coming from different barangays of Matuguinao, Samar. The main objectives of YLS are to develop the youth to become responsive individuals and to empower them as advocates and conduits of peace and development.
The 43rd Infantry Battalion Commander, Lt. Col. Reymondo A Delgado INF (GSC) PA, said that the YLS is one of the AFP's programs designed to reach out and help the youth become future leaders. This is in line with the continuing efforts of the AFP to productively engage the various stakeholders in winning the peace.
Joining the YLS resource speakers were PNP, DepEd, RHU, PYAP, DSWD, and the AFP. The objective of this training is to indoctrinate the youth as peace advocators and to enhance their knowledge and capabilities to become more productive constituents of the community and to practice their roles as a leader for the achievement of peace.
Whereas, the We Search Troopers were able to impart effectively under the atmosphere of self-discovery, cooperation and teamwork's among others.
"As early as now we're preparing them to learn about leadership, thus, we invited guests from other agencies and sectors to expose them to the different government offices and their respective mandates," says Col. Delgado.
The activity culminated with a brief ceremony. Mayor Dela Cruz delivered an inspiring message. A youth representative and a member of the facilitators shared their impressions.