Three years after Yolanda:
First batch of DILG's post-Yolanda rehab 99.66% complete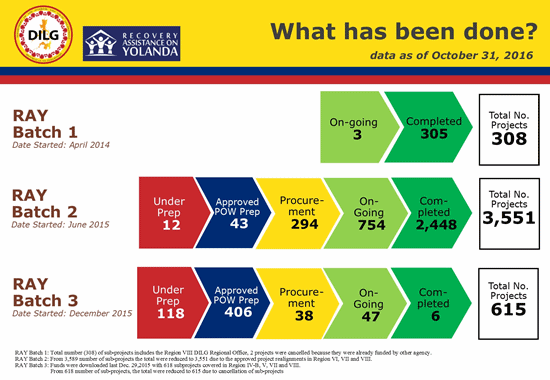 By DILG
November 8, 2016
QUEZON CITY – As the whole nation looks back at the lessons from super typhoon Yolanda (international name Haiyan) that wreaked havoc on the Philippines in 2013, the Department of the Interior and Local Government (DILG) reported that the first batch of post rehabilitation efforts under the Recovery Assistance on Yolanda (RAY) program is already 99.66% complete.
The RAY Project provides support and assistance to local government units (LGUs) most affected by super typhoon Yolanda. These LGUs are in the provinces of Palawan, Masbate, Aklan, Antique, Capiz, Iloilo, Negros Occidental, Cebu, Biliran, Eastern Samar, Leyte, and Samar.
DILG Secretary Ismael D. Sueno said that the first batch of projects include the repair and rehabilitation of 308 provincial/city/municipal halls, public markets and civic centers, mostly in Eastern Visayas, which incurred the worst damage from the super typhoon. Of these, 305 have been completed and the remaining three are on-going implementation.
He explained that the road to recovery has not been easy but Yolanda's lessons are deeply etched in the hearts and minds of Filipinos.
"Three years after Yolanda, we have become more vigilant, more responsible, and more resilient as a people and as a nation," Sec. Sueno said.
RAY Batch 2: 81.50% complete
For the second batch of RAY projects, the DILG Secretary reported that it is now at 81.50% weighted overall status. That is 2,448 of the 3,591 projects have been completed. There are 754 on-going projects, 294 projects on procurement stage, 43 projects with approved preliminary documents, and 12 projects under preparation of initial documents.
RAY Batch 2 focuses on the rehabilitation of totally and partially-damaged barangay facilities such as barangay halls, barangay day care centers, barangay civic centers, and the seven additional municipal facilities which were not funded under the first batch.
RAY Batch 3: 27.98% complete
For the third and latest batch of RAY projects, Sec. Sueno added that it is now at 27.98% weighted overall status. Six out of 615 projects have been completed, 47 are on-going project implementation, 38 on procurement stage, 406 with approved initial documents, and 118 on preparation of preliminary documents.
RAY Batch 3 covers the rehabilitation and reconstruction of water supply systems, drainage systems, transport terminals, and halls of justice in Yolanda-hit provinces, as well as municipal and barangay facilities which were not funded under the first and second batches.
RAY Program in Eastern Visayas
Regional Director Marivel C. Sacendoncillo said DILG downloaded /released to LGUs in Eastern Visayas P2.53 Billion for Recovery Assistance on Yolanda (RAY) for 2,248 subprojects, resulting in the completion of:
- 1,189 repairs of municipal halls, public markets, civic centers, barangay halls and day care centers.
- Still ongoing are 1,059 projects to rehabilitate and reconstruct these public facilities and spill-over projects for barangay and municipal facilities, including transport terminals, justice halls and water supply systems.
- For the first batch of RAY projects released in April 2014, of 144 subprojects worth 938.47 million pesos, 142 have been completed and only 2 are ongoing.
- For the 2nd Batch (Barangay projects) released in 2015 with 1,613 subprojects worth 995.06 million pesos, 1,041 or 65.1% have been completed. These are due to be completed by end of 2016.
- The 3rd Batch of RAY projects (spill-over projects for both municipalities and barangays not included in previous batches) with 491 subprojects worth 592.64 million pesos released this 2016 are due for completion in 2017.
Lessons from Yolanda
While Sec. Sueno is happy to report the DILG's accomplishment on post-Yolanda rehabilitation efforts, he is also saddened to note that there are still Yolanda survivors who never got to move on mainly because of the seemingly poor response of those involved in the past rehabilitation efforts.
Despite the glaring disparity, many of those who lived to tell about their ordeal are thankful and are more appreciative of life and the assistance from the national government and various national and international offices who have extended their help to the Yolanda survivors.
The DILG Secretary said "On the third year, we hope that our local government units and other frontline agencies will take Yolanda's lessons to heart to ensure that zero casualty scenarios will not remain a vision but a reality."
In the same way, citizens should play a more active role in disaster preparedness by taking action and becoming more "listo"(alert).
"Let us imbibe the culture of preparedness and make it a way of life so that we can continue our journey to becoming a nation of where every citizen leads a safe, happy and comfortable life," Sec. Sueno said.
Yolanda, categorized as a level 5 super typhoon with 315 km/h wind speed, was one of the most violent and devastating typhoons in the history of the Philippines.