43rd Infantry Battalion conducts Lakbay Kapayapaan Information Patrol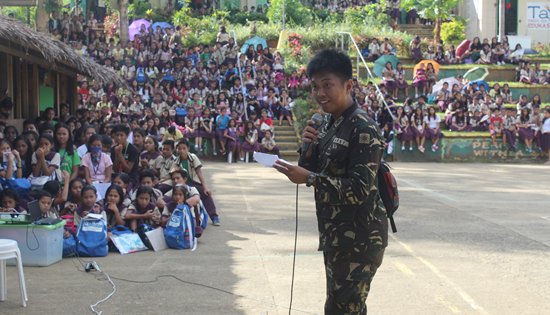 By 43rd Infantry Battalion, 8ID PA
November 14, 2016
LOPE DE VEGA, Northern, Samar – The 43rd Infantry (We Search) Battalion, 8th Infantry (Stormtroopers) Division, Philippine Army conducted Lakbay Kapayapaan Information Patrol (LAKIP) on November 11, 2016, 2:00 o'clock in the afternoon at Lope de Vega National High School, Lope de Vega, Northern Samar.
More than 1000 senior and junior high school students attended the activity, which aim to educate them regarding the current programs of the Armed Forces of the Philippines (AFP) such as: Internal Peace and Security Plan (IPSP) Bayanihan, Comprehensive Local Integration Program (CLIP) and Army Transformation Roadmap.
2Lt Prince Dominic L Calmada, Acting Civil Military Operation (CMO) Officer, also informed the students about the qualifications and requirements on how to apply in the Philippine Military Academy, Officer Candidate Course, Officer Preparatory Course and Candidate Soldier Course.
Lt. Col. Reymondo A Delgado, Acting Commanding Officer, 43rd IB, said that the LAKIP is one of the unit's efforts to counter the insurgency problem and to keep the youths well informed.
Dr. Noralyn Casco, Officer-In-Charge, Lope de Vega National High School, said that, "On my behalf, I express my thanks to the 43rd IB by informing our students about the AFP's Program and by choosing our school for this activity."