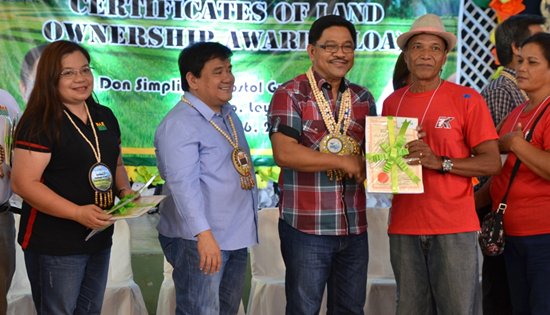 Agrarian Reform Secretary Rafael "Ka Paeng" Mariano (in checkered polo shirt) distributes 1,058 certificates of land ownership award (CLOAs) to 783 agrarian reform beneficiaries from five Leyte towns in Barugo, Leyte.
(Jose Alsmith L. Soria)
783 Leyte farmers receive CLOAs from Sec. Mariano
By JOSE ALSMITH L. SORIA
November 21, 2016
BARUGO, Leyte – Seven hundred eighty-three farmers from five Leyte towns turned landowners when Agrarian Reform Secretary Rafael Mariano handed to them certificates of landownership award (CLOAs) during the Secretary's visit to Eastern Visayas early this month.
Mariano distributed the 1,058 CLOAs at the Apostol Gymnasium in this municipality.
He was assisted by Land Registration Authority (LRA) Deputy Administrator Robert Leretana, Mayor Maria Rosario Avestruz, Department of Agrarian Reform (DAR) Regional Director Sheila Enciso, Assistant Regional Directors Ma. Fe Malinao and Ismael Aya-ay, and Leyte Provincial Agrarian Reform Program Officer Renato Badilla.
The CLOAs covered a combined area of 1,427.5 hectares of farmlands situated in the towns of Barugo, Alangalang, San Miguel, Carigara and Jaro.
Lolita Candaza, one of the beneficiaries said, they can now avail of the various assistances extended to "Yolanda" survivors by the different local and international non-government organizations.
Mariano in his message stressed that it is DAR's goal to free farm workers from the bondage of the soil.
During the said occasion he announced that his administration will create a national LAD (land acquisition and distribution) action team that will help strategize in accelerating land distribution process nationwide.
He also disclosed that DAR is now addressing the problem on the reconstitution of CLOAs that were destroyed when the Registry of Deeds (ROD) in Palo was burned down in the 90's.
Meanwhile, Enciso thanked the LRA for trimming down the requirements in the registration of CLOAs resulting to the release of these land titles pending at the ROD.
For the beneficiaries to understand, Leretana explained that in the registration of an original certificate of title (OCT) as in the case of these CLOAs, tax declaration is required as proof of ownership.
But since ownership has already passed thru several persons, it was difficult then to present a tax declaration especially that the present owner has to pay unpaid real property tax if ever the previous owners failed to pay them before they could be issued with the said document, which according to Leretana was the reason why they decided to take it out from the requirements.
According to Badilla, San Miguel has the most number of beneficiaries at 245 with 321 CLOAs covering 233 hectares; Barugo has 222 beneficiaries of the 398 CLOAs covering 280.1 hectares; Jaro has 147 beneficiaries of the 230 CLOAs covering 684.6 hectares; Carigara has 123 beneficiaries of the 102 CLOAs covering 129 hectares; while Alangalang has 46 beneficiaries of the 7 CLOAs covering 100.6 hectares.