WORLD NEWS
Maiden shipment of Philippine organic coconut milk arrives in Russia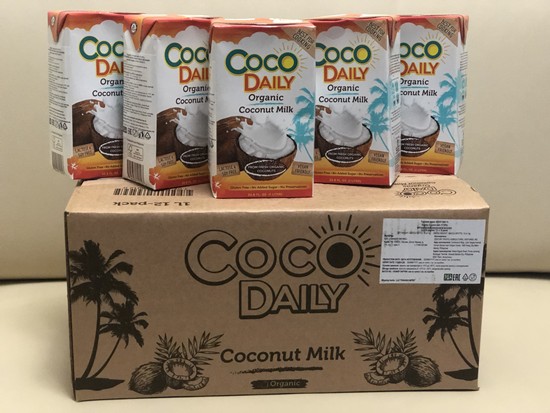 By DTI-FTSC
April 28, 2020
MOSCOW, Russia – Russian importer PanAsia Impex Ltd. announced that the maiden shipment of Philippine brand Coco Daily organic coconut milk arrived at the port of Saint Petersburg first week of April. The 1-liter packages of Coco Daily that arrived in the 40-foot shipping container will be available to mainstream Russian consumers this spring.
PanAsia Impex Ltd., Russian importer and distributor of Asian food products, sourced the Philippine branded coconut milk from Century Pacific Agri Ventures, Inc. (CPAVI). Coco Daily is the first product imported from the Philippines by PanAsia Impex Ltd.
Department of Trade and Industry (DTI) Secretary Ramon Lopez said of this welcome development, "The first shipment of Philippine coconut milk to Russia is good news, especially in light of the current situation. Amidst the coronavirus threat, our businesses continue to grow and expand. We are very proud of our Philippine exporters and producers who pursue opening new markets abroad."
The Trade Secretary congratulated both PanAsia Impex Ltd. and CPAVI. "The Philippines is looking forward to more cooperation between Philippine and Russian companies that will bring more Philippine high-quality, world-class food products to Russia and make it available to the Russian consumers," he added.
Philippine Ambassador to the Russian Federation, Ambassador Carlos D. Sorreta also welcomed this positive development. He added that "the food sector is one of the segments where we can see increasing cooperation between the Philippines and Russian companies. Moving forward, we hope that there will be more such partnerships so that more Philippine products will be made available in the Russian market as both the Philippines and Russia can contribute to one another's food security."
"Coco Daily coconut milk has the advantage of being organic as it competes with other similar products in the Russian market," said Mr. Vyacheslav Kapitonov, one of the founders of PanAsia ImpEx Ltd. He also thanked the DTI's Philippine Trade & Investment Center in Moscow (PTIC-Moscow) for their continuous assistance and business-to-business (B2B) introductions as PanAsia Impex sources more food products from the Philippines.
Commercial Counsellor Kristine Umali of PTIC-Moscow also congratulated PanAsia Impex and CPAVI on the maiden shipment. "We are pleased that our assistance and B2B introductions between PanAsia Impex and Philippine exporters have borne fruit. We are excited to have our Philippine coconut milk in the mainstream market and for Russian consumers to be able to try our high-quality Philippine food products. We hope to bring more world-class Philippine products to Russia, and we are here to assist in the B2B introductions for potential partnerships between Philippine and Russian companies," she shared.
Pan-Asia Impex Ltd.'s partnership with the Philippines stemmed from a meeting with PTIC-Moscow last year, where they indicated their interest to source coconut milk and other coconut products from the Philippines. PTIC-Moscow then facilitated B2B introductions followed by meetings with Philippine exporters at the sidelines of the Philippines-Russia Joint Commission on Trade & Economic Cooperation (JCTEC) in August 2019 and the World Food Moscow in September 2019, both held in Moscow, Russia.
PanAsia Impex formalized its strong interest to pursue cooperation with Philippine companies by signing a Memorandum of Understanding (MOU) with CPAVI at the Philippines-Russia Business Forum held on 04 October 2019 in Moscow during the Philippine Presidential Visit to Russia. PanAsia Impex has since entered into negotiations with CPAVI and other Philippine food product producers and exporters to source Philippine food products for the mainstream Russian consumer market.