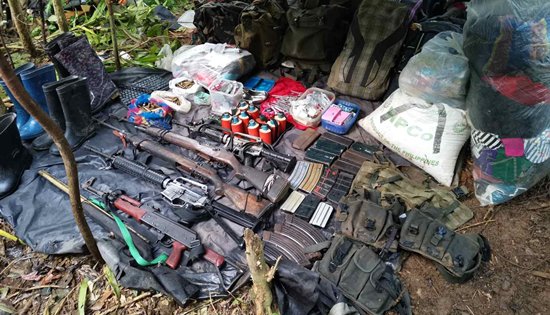 Recovered war materials during encounter of 20IB with CNTs at Brgy P Rebadulla, Catubig, Northern Samar on April 23, 2020.
20IB overruns CNTs' lair, seizes high powered firearms in Northern Samar
By DPAO, 8ID PA
April 25, 2020
CAMP LUKBAN, Catbalogan City, Samar – Troops from 20th Infantry (WE LEAD) Battalion, 8th Infantry Division, Philippine Army overran Communist Terrorist Group's (CTG) lair and seized high powered firearms and other war materiel in an encounter at the vicinity of Barangay P. Rebadulla, Catubig, Northern Samar at about 3 o'clock in the afternoon, April 23, 2020.
Based on the initial report from Lieutenant Colonel Juan A Gullem, Commanding Officer of 20IB, his troops, while responding to the local residents' complaint about the CTG's continued interruption on the completion of government projects in the Pacific towns and hampering the distribution of the Social Amelioration Program (SAP), engaged in a 20-minute firefight which led the CPP-NPA Terrorists (CNTs) to abandon the said lair and withdrew towards the mountainous area of the said barangay.
The enemy's lair can accommodate more or less 40 CNTs and has one (1) multi-purpose hall, eleven (11) bunkers, nineteen (19) makeshift tents, one (1) comfort room, one (1) kitchen and three (3) posts.
The troops seized two (2) M14 rifles; one (1) AK47 with four (4) magazines; one (1) M16 rifle with seven (7) magazines; one (1) M653; one (1) Cal. 22 (rifle converted); twelve (12) IEDs; one (1) hand grenade; three (3) bandoleers; one (1) Baofeng radio with charger; one (1) cellular phone; twenty (20) backpacks; assorted medical supplies and subversive documents with high intelligence value.
No casualty was reported on the government side while undetermined casualties on the enemy's side as evidenced by the bloodstains found on the route of withdrawal.
Troops under the 20IB are on search and pursuit operation to sustain and ensure that the CNTs will be apprehended.
Hon. Edwin Marino Ongchuan, Governor of Northern Samar Province remarked, "The dedication of uniformed men on the face of this COVID-19 public health emergency is commendable. It clearly attests to the seriousness of our government forces in crushing the enemies of the state. We denounce this act of atrocity and all other acts by individuals or groups who take advantage of this COVID health crisis to sow fear and disorder in the community."
Colonel Lowell R. Tan, Commander of 803rd Infantry (PEACEMAKER) Brigade, in his statement, "The overwhelming support of the populace who are already fed up of the rebels' assaults and atrocities provides our security forces timely information leading to a successful operation that brings us one step closer to peace and prosperity."