Anti-pregnancy pills in CNT lair in Northern Samar, glimpse of grim situation of abused women by NPA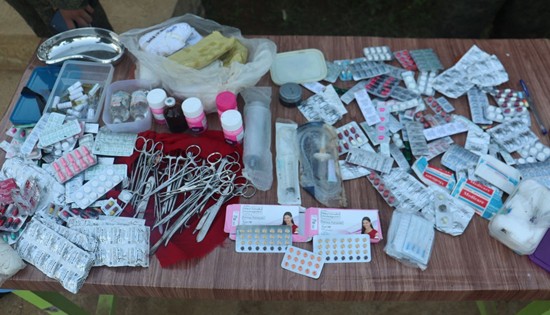 By DPAO, 8ID PA
April 26, 2020
CAMP LUKBAN, Catbalogan City – The recovery of anti-pregnancy pills by troops in a Communist NPA Terrorists' (CNT) lair in Barangay P. Rebadulla, Catubig, Northern Samar last April 23, 2020 offers glimpse of grim reality of the dire situation of women under the physical control of the NPA.
This is the prevailing conclusion by authorities as information are coming in and being validated by other data and by former rebels from other areas.
It may be recalled that the 20th Infantry Battalion under 8th Infantry Division responded to information of residents and overran a Communist Terrorist Group's (CTG) lair and seized high powered firearms and boxes of anti-pregnancy pills.
Major General Pio Q. Diñoso III, Commander of 8th Infantry Division said, "The anti-pregnancy pills are proof of the situation of women under the unbearable control of the NPA terrorists. Women fighters could have been compelled to take anti-pregnancy pills and they might have been forced to become sex objects of some NPA leaders".
Three weeks ago in Balangiga, Eastern Samar, NPA terrorists took some relief goods belonging to people in Sitio Bangon, Brgy Guinmaayohan and people noticed some pregnant women NPA members.
In a bid to help these pregnant NPA members, Mayor Randy Graza of Balangiga issued an appeal for the NPA to coordinate with government instrumentalities so that they may be given appropriate health care.
Several former rebels revealed that this situation is not only prevalent in Samar but in every area where the NPAs operate. Women have been subject of sexual exploitation by NPA leaders and other members. Former rebels said that some women end up as party wife of other NPAs while others end up only as sex objects of some leaders or senior members. Most often, pregnant NPAs are being abandoned by their leaders and companions in dire situations.
In October 9, 2019, alias Jane, a pregnant NPA and 12 others surrendered to government forces in Bulacan. She refused to reveal the circumstances of her pregnancy except that she threatened their leader that she will detonate a grenade if she will not be allowed to go down. Also in 2019, alias Saisai a former NPA medic, married and from Agusan del Norte was raped and impregnated by their NPA leader but suffered a miscarriage.
In April 19, 2018, Susan Guaynon, a pregnant 20-year old NPA was abandoned by her companions after a firefight in Bukidnon. She was given proper care by soldiers and underwent surgery in Cagayan de Oro City. Also in 2018, alias Wilma, a former NPA medic from Magpet North Cotabato revealed that she and other female companions were sexually abused by their NPA leader.
Last April 21, 2020 the Geroche family of Brgy.Dalimdim, Laak, Davao de Oro were targetted by NPA terrorists. Roldan, the head of the family was killed simply because he is the father of Ronalyn a former rebel who surrendered after she was raped by alias Wendel, her NPA recruiter.
Years back, former rebels Marife Benusa alias Juliet and one alias Sisa revealed their personal plight on sexual opportunism and financial corruption of NPA leaders and senior members inside the underground movement.
Major General Diñoso III appealed to all female NPA combatants to surrender to save them from further humiliation due to sexual abuses by some NPA Leaders. "Do not allow these brutal NPA Leaders to trample upon your dignity and lose your self-worth as a woman. Come to us and we will help you regain your life back."