Bugtong Elementary School gets new 4-classroom building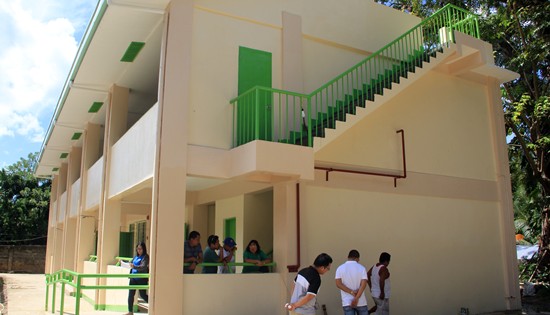 By CHENZI MAY D. UY
November 6, 2019
CALBAYOG CITY – Department of Public Works and Highways (DPWH) -Samar First District Engineering Office (SFDEO) has completed the construction of a two-storey, four-classroom school building in Bugtong Elementary School, Calbayog City. The project drew a total of P12.2 million from the Basic Educational Facilities Fund (BEFF) 2018.
For all 2018 school building projects, DPWH adopted the updated standards and specifications set by the Department of Education. This means the new building now two roof-mounted water tanks and a fire extinguisher in each room, in addition to the standard PWD ramp access, sanitary comfort rooms, and fire alarms. One of the water tanks will serve as a reservoir in case of fire, while the other is for normal water usage within the building.
As per request by the school head, DPWH introduced a volleyball court and a paved walkway into the original design. It can be recalled that the school's volleyball team won Gold in the Calbayog City Wide Meet 2019 and represented the city to the EVRAA Meet.
The provision of new learning spaces primarily aims to decongest existing classrooms so the ideal teacher-to-learner ratio can be achieved. This, in turn, helps to improve the safety, comfort, and learning success of students.