DOLE holds groundbreaking ceremony for future North Leyte Field Office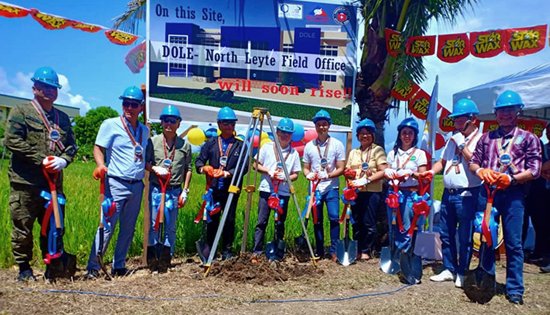 By NORMA RAE S. COSTIMIANO
October 28, 2019
TACLOBAN CITY – A groundbreaking ceremony was held by the Department of Labor and Employment Regional Office VIII for its future North Leyte Field Office last October 22, 2019 at Government Center, Candahug, Palo, Leyte.
The simple ceremony was witnessed by the different partners and stakeholders of DOLE RO VIII with Executive Director Noel C. Binag of Occupational Safety and Health Center as the keynote speaker.
Regional Director Yahya A. Centi in his opening remarks grabbed the opportunity to extend his heartfelt gratitude to the Province of Leyte headed by Governor Leopoldo Dominico L. Petilla and committed as well to continue providing labor and employment services as needed by the constituents of the province.
"My sincerest gratitude to our good governor Petilla for being so generous to the department. Let it be known today that we are inspired all the more to continue delivering public service in the field of labor and employment. This will forever be etched in the history of DOLE RO VIII", said Director Centi.
Meanwhile, Executive Director Binag congratulated DOLE RO VIII and hoped for a continued strategic partnership with its stakeholders for the benefit of the constituents.
"Let this ground-breaking ceremony spark a more harmonious partnership of DOLE and the province in the future. I know a lot is still to be done for the realization of the future DOLE-NLFO building, but we are now about to do the first step. As the quote says, A journey of thousand miles begins with a single step," said ED Binag.
In response, Atty. Edgardo Cordeño, Provincial Administrator, representing the good governor, assured that the provincial government of Leyte will remain as a supportive partner of DOLE in its pursuit to fulfill its mandate and eventually serve the people of Leyte effectively.
"As your fellow servants in the government, we have shared responsibility to help our people in need. We are one with you in remaining steadfast to the mission of uplifting the lives of the Leyteños", Atty. Cordeño said.
Other stakeholders who gave their messages during the turnover were Mr. Jaime Go representing Congressman Ferdinand Martin Romualdez of 1st District of Leyte and Mayor Michael Dragon Javier representing Congresswoman Lolita Karen Javier of 2nd District of Leyte.
Also present to witness the ceremony were heads of the DOLE-Regional Coordinating Council.
Last August 17, 2019, the signing of the contract of usufruct was conducted which entitled the DOLE RO VIII to a 1,000 square meter lot. Said lot is intended for DOLE-North Leyte Field Office catering to the clients of first and second districts of Leyte.