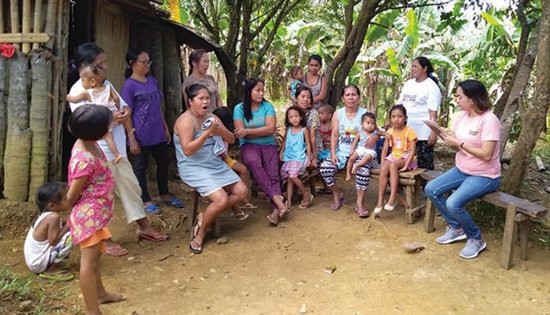 PNC Jennibeth S. Canete (right) together with Janice Bael conduct interview with ECCD F1K beneficiaries during an R-TAME team monitoring/evaluation of the village of Buenavista, Baybay City.
ECCD-IP implementation in ASAPP areas evaluated
By JACK C. GADAINGAN, Nation Builder
June 17, 2019
TACLOBAN CITY – In three years of its implementation, the Early Childhood Care and Development - Intervention Package (ECCD-IP) for First 1000 Days (F1K), has really made some impact in the nutritional status of local people in the pilot area.
ECCD program coordinator Jennibeth S. Cañete, who headed the Regional Technical Assistance Monitoring and Evaluation (R-TAME) team, disclosed this in an exclusive interview with Nation Builder.
An R-TAME team composed of Cañete and Janice Bael of National Nutrition Council Region 8 (NNC-8) together with Saloma Guisulga, Elena Monteroso and Melodina Edullantes of the Visayas State University - Barangay Integrated Development Approach for Nutrition Improvement (VSU-BIDANI), conducted a monitoring and evaluation of the ECCD F1K implementation, down barangay level in the city of Baybay and the towns of Abuyog, Mahaplag and Hilongos all in Leyte 5th district on May 28-31, 2019.
"There has been a significant decrease of malnutrition in this city since the implementation of the Early Childhood Care and Development!" Baybay City Mayor Carmen L. Cari claimed in a State of Nutrition Address (SONA) on October 24, 2018.
The local government units (LGUs) of Abuyog, Mahaplag, Hilongos and Baybay are covered under the Accelerated and Sustainable Anti-Poverty Program (ASAPP) of the national government, a three-year intervention package being piloted in selected cities and municipalities (10 provinces nationwide) considered poor.
Health and nutrition is only one component of ASAPP, which aims to accelerate poverty reduction and boosting economic growth in the identified localities through public-private interventions, among which by tapping the skills and resources of the poor in enabling private enterprises to expand their production capacities and markets.
Meanwhile, focus on First 1000 Days congruent with the Early Years Act (RA 10410) refers to full range of health, nutrition, early education, and social services development program for the holistic needs of young children. It further narrows down the age-group on First 1000 Days of life, referred as "golden window of opportunity" for the child's growth and development--that includes the time of conception (pregnancy), until the baby is born and two years of age.
The primary and immediate objective of ECCD-IP F1K is to reduce maternal and child undernutrition, specifically at normal times: a. Promote optimum infant and young child feeding; b. Nutrition services in ante-natal care; c. Health services (prenatal, prenatal, immunization, management of childhood illnesses, reproductive health).
In emergencies: d. Vitamin A, iron, and iodine supplementation; e. Food fortification with vitamin A, iron, and iodine; f. Diet diversification; Increase food supply and improve physical and economic access to nutritious and safe food; and g. Early child learning and psychosocial stimulation.