DPWH-Biliran DEO implements additional flood control projects under 2018 fund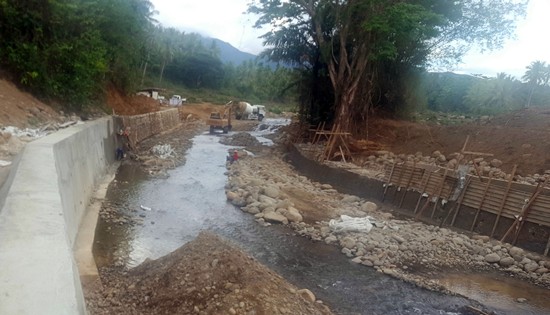 By DPWH-Biliran
June 10, 2019
NAVAL, Biliran – The Department of Public Works and Highways (DPWH)- Biliran District Engineering Office (DEO) is implementing additional two flood control projects under its 2018 fund. These flood control projects are implemented at Brgy. Mapuyo in Kawayan town and Brgy. Busali in Biliran town.
District Engineer David P. Adongay Jr. said that these projects are currently on-going with an accomplishment of 50% and 20%, respectively as of May 31, 2019.
"The funds for the additional flood control projects are late release of the 2018 budget under the local infrastructure program, hence also the late in implementation" said Adongay.
According to Adongay, these flood control projects were prioritized to protect the community and agricultural products against flooding and damages.
"There is an urgent need for the completion of these projects especially that it is already rainy season," said Adongay.
The P9.63M construction of Busali Flood control project entails the construction of a 156-linear meter length on both sides of the river with a height of 3.5-meter. This project is target to be completed on June 30, 2019.
Meanwhile, the Mapuyo Flood Control project entails the construction and reconstruction of revetment structure with a total length of 192-linear meter on both sides and a height of 3.5-meter with a contract cost of P14.46M. This project is set to be completed on September 23, 2019.
Adongay revealed that the portion of the existing flood control structure in Mapuyo river was damaged during tropical storm "Urduja" in December 2017 due to the impact of the washed out debris, thus the need for a reconstruction of a 65-linear meter length on one side of the river.
Adongay said that with the additional project, Biliran DEO now has a total of 62 projects implemented under 2018 fund from only 60 projects.
Out of the 62 projects, 52 were already completed while 10 are on-going with an overall accomplishment of 91.97% as of May 31, 2019.
On-going projects includes four access roads leading to tourist destinations, one slope protection project, one bypass road, one bridge widening, one multipurpose building and two flood control projects.