Senior high school in Leyte gets new classrooms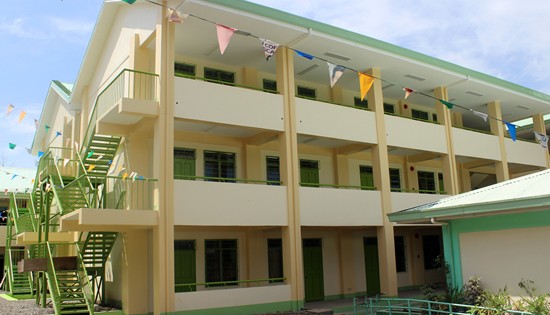 By DPWH 2nd LED
June 11, 2019
JULITA, Leyte – The Department of Public Works and Highways (DPWH) Leyte field office here has recently completed the construction of a three-storey six-classroom school building at Julita Senior High School in Julita, Leyte.
According to Erlinda Daya, school head, the new facility will be used as regular classrooms while the old vacated buildings will be utilized as laboratories and office for teachers. The school has a total of 308 enrollees for this year.
The high-rise building is worth P15 million funded under the Basic Educational Facilities Fund (BEFF) of 2018. BEFF is an annual budget for school building program, which covers the improvement and maintenance of school facilities in the country.
"This building is provided with standard toilet and sanitary facilities, storage rooms and proper ventilation, each classroom installed with two oscillating ceiling fans. It is also equipped with fire alarm system and fire extinguisher," said Gerald Pacanan, DPWH Leyte 2 district engineer.
He added that with the addition of junior and senior high, the number of students in high school has increased prompting the government to allocate more funds for school facilities.
"This is in support to the government's strengthened education program. We, at the DPWH and in coordination with the Department of Education commit to provide more conducive learning facilities for students," he ended.
For 2018 BEFF, the district is tasked to implement 25 school building projects worth P371.39 million.