IACLA an instrument of political repression - Karapatan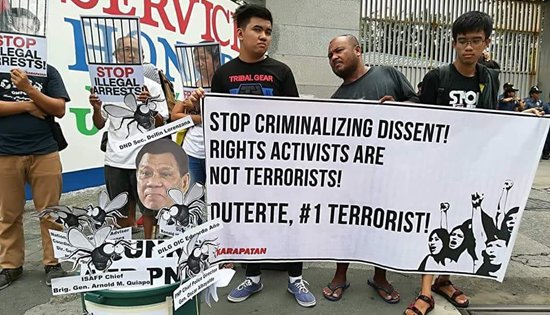 By KARAPATAN
October 9, 2018
QUEZON CITY – "Before the 'Red October' scheme was concocted by the military, the military and the police already had much time to practice their script-writing and story-telling stint through the filing of trumped-up charges against activists and critics. The formation of the Inter-Agency Committee on Legal Action (IACLA) is an extension of these imagined and supposed "crimes," used to legitimize the criminalization of dissent. Ultimately, IACLA is an instrument of political repression," said Karapatan Deputy Secretary General Roneo Clamor at a protest rally in front of Camp Crame in Quezon City on October 9, 2018.
IACLA is a joint committee formed by the AFP and the PNP on October 9, 2017, exactly a year ago. According to Karapatan, at least 221 individuals have already been filed with trumped-up charges since the start of Duterte's term, and this has merely been aggravated by IACLA's creation. Under IACLA, 178 individuals have already been arrested from October 9, 2017 to September 30, 2018.
Clamor explained that IACLA is a revival of Gloria Macapagal Arroyo's Inter-Agency Legal Action Group (IALAG), the agency responsible for fabricated charges against activists during Arroyo's term. The IALAG was eventually abolished in 2009, after recommendations from UN Special Rapporteur on extrajudicial killings Prof. Philip Alston, but government policy and practice of filing trumped-up charges against activists continued under the Aquino regime and exponentially worsened under Duterte's.
"Truly, Duterte draws inspiration from fellow fascists whom he has shown utmost favor," he added, citing cases of trumped-up criminal charges filed against development workers and trade unions organizers after the creation of IACLA.
Benito Quilloy and Rita Espinoza, two development workers of the Assert Socio-Economic Initiatives Network (ASCENT) were forcibly taken by elements of the Criminal Investigation and Detection Group (CIDG) on October 19, 2017. The two were alleged as ranking members of the Communist Party of the Philippines (CPP) and were charged with illegal possession of firearms and ammunition, as well as other criminal offenses; the two have strongly denied the allegations. Quilloy and Espinoza are currently detained at the Butuan City Jail.
Peace consultant Rafael Baylosis, trade union organizer Marklen Maojo Maga and public sector union organizers Juan Alexander Reyes and spouses Oliver and Rowena Rosales were illegally arrested this year. Baylosis and Maga were charged with trumped-up charges of illegal possession of firearms and explosives, with additional murder charges for Maga, while Reyes and the Rosales couple were also charged with illegal possession of firearms and explosives.
Karapatan also reported that at least 128 peasants and indigenous peoples have been victimised by these trumped up charges, which the military and police use in an attempt to impede their defense of their right to land and ancestral domains.
Clamor asserted that these cases are linked, and are by-products of IACLA, the regime's counterinsurgency drive and its campaign against human rights defenders and political dissenters.
"This is a systematic maneuver by the government to legitimize repression. It is the blatant subversion of laws, compounded by the collusion with the Justice Department, courts and other government agencies, to jail individuals and members of progressive organizations falsely labeled as "enemies of the State." It is, put simply, the mobilization of State forces and resources to sow injustice," he said.
"We call for the immediate abolition of the IACLA and the withdrawal of all trumped-up charges against activists and progressives. We likewise demand the immediate release of all political prisoners.
The Duterte regime keeps on adding to its list of repressive policies, and thus adds to the worsening rights situation in the country. This government is merely proving how hostile it is to resistance and dissent, even going to incredible lengths to discredit, silence, and persecute individuals," concluded Clamor.