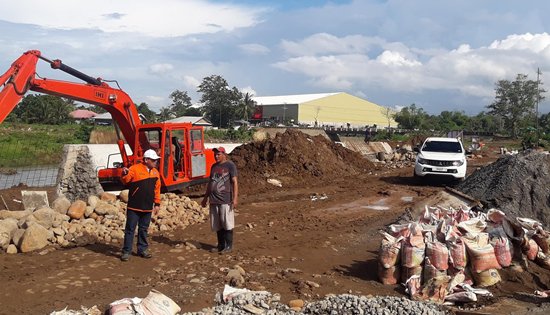 David P. Adongay Jr., (wearing jacket) District Engineer inspects on-going construction of Caraycaray flood control structure project in Naval, Biliran.
District engineer Adongay addressed slow implementation of projects of DPWH-Biliran
Press Release
October 4, 2018
NAVAL, Biliran – The Department of Public Works and Highways (DPWH) Biliran District Engineering Office (DEO) is urging contractors to fast-track the implementation of projects to meet the district's physical target accomplishment.
David P. Adongay Jr. District Engineer expressed his disappointment on the low performance of the district office for the month of September, 2018.
According to Adongay, Biliran DEO placed number 12 out of the 13 performing districts in Region VIII for the said month.
As of September 31, 2018, the district has reported a negative slippage of .70% and has an overall accomplishment of 59.69%.
Adongay emphasized that the physical accomplishment of the district from August to September, 2018 just increased to only .06% when it is supposed to increase at least 15% each month.
The district engineer is strongly asking for cooperation from the contractors to help Biliran DEO accelerate its project implementation.
"Hindi ibig sabihin pinabibilisan ang projects, macocompromise na ang quality," Adongay said.
Adongay also orders project engineers to closely monitor their projects from time to time.
In order to patch up the negative slippage and low accomplishment of the district, Adongay strictly orders project engineers not to approve any time extension or suspension requested by the contractor.
Under 2018 project implementation, Biliran DEO has a total of 60 projects. As of September 31, 2018, 31 projects are already completed, 26 are on-going and three are not yet started. Some of the big ticket projects are still on-going or just started, hence the low performance.
The district has completed four rehabilitation of bridges, two asphalt overlay projects, two access road projects leading to trades and industries and economic zones and 17 flood control projects under its 2018 regular infrastructure project implementation. While under 2018 local infrastructure project implementation, Biliran DEO has completed three multi-purpose buildings, one flood control project, one Farm-to-market road project, and one road widening project.