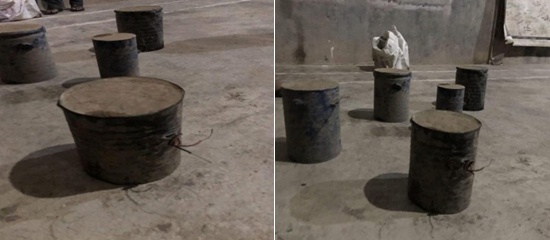 Five anti-personnel mines seized during operations of 87th Infantry Hinirang Battalion.
Hinirang troops seizes newly made anti-personnel mines
By 87th Infantry Battalion, 8ID PA
October 4, 2018
POLANGI, Calbiga, Samar – The 87th Infantry (Hinirang) Battalion seized five anti-personnel mines in Brgy. San Mauricio, Calbiga, Samar yesterday. The 87IB conducted strike operation on one identified Communist Terrorist safe house that resulted in the discovery of the newly made anti-personnel mines.
The safe house is under Sergio Rodante Ortiz Command, South Samar Committee Sesame, EVRPC. The explosives are contained in a cylindrical type can, four of which are estimated to be five kilograms each and the other is estimated to be two kilograms.
The discovery of anti-personnel mines saved the lives of the innocent civilians and their properties. It has been noted that the use of personnel mines has been banned by the international community. The Communist Terrorist has proven again that they will do anything to achieve their selfish desire even if it means endangering innocent civilians around.
"We will not allow any terroristic acts in sowing fear among the local populace of Calbiga, Samar, I encourage the remaining members of the Communist Terrorist to lay down their arms and avail the Enhanced Comprehensive Local Integration Program of the Government," says Lt. Colonel Rommel R Cabanayan, Commanding Officer of 87IB.