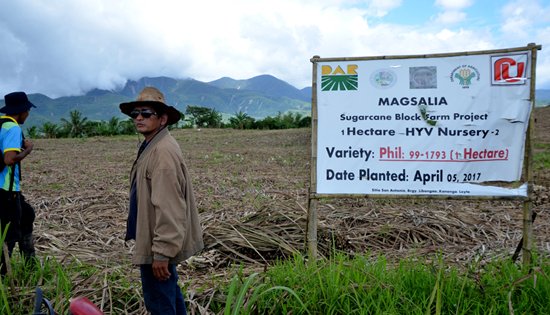 Magsasaka ng Libongao Farmers Association (MAGSALIA) President Reynaldo Francisco show their one-hectare demo farm after the harvest. According to him, they were able to harvest 73.1 tons of sugarcane, an increase of 28 tons under the sugar block farm.
Sugar block farm doubles the harvest
Press Release
October 1, 2018
TACLOBAN CITY – "Halos mag doble ang na harvest namo karon!" ("Our harvest now is almost double!"), said Reynaldo Francisco as he excitedly reported their harvest in sugarcane this season in their one-hectare demo farm.
Francisco, one of the 29 agrarian reform beneficiaries (ARBs) in the 30-hectare lot once owned by the Jonases, and president of the Magsasaka ng Libongao Farmers Association (MAGSALIA) in Kananga, Leyte, reported that they harvested 73.1 tons in their demo farm.
According to him, "MAGSALIA is now the envy of other sugar plantation owners in our town because of our very high return of investment in sugar production".
Before, like other sugar farmers, they could only harvest an average of 40 to 45 tons in a hectare lot.
But now, our production nearly doubled because of the Sugar Block Farm Project (SBFP) introduced to us in 2017 by the Department of Agrarian Reform (DAR), Francisco exclaimed.
SBFP is one of the projects under the Program Beneficiaries Development (PBD) component of the Comprehensive Agrarian Reform Program (CARP) that continuously provide farmers and farm workers, specifically the ARBs, with the opportunity to enhance their dignity and improve the quality of their lives through greater productivity of agricultural lands.
It is in partnership with the Sugar Regulatory Administration (SRA), per Republic Act No. 10659 or the Sugarcane Industry Development Act, as assistance provided to ARB organizations (ARBOs) in sugarland areas where small landholdings are consolidated to achieve economies of scale.
In Region-8, MAGSALIA is one of the only two ARBO-recipients of the SBFP.
Aside from SRA, DAR also commissioned the services of RU Foundry to provide the technology in sugar production that would lead to an increased income.
Francisco disclosed that RU Foundry; which is based in Bacolod City, another sugar producing area; taught them the tractor spike style of planting, which truly gave them higher production. "Tractor spike or clamp technology" was new to them as it was not practiced in Region-8.
They were also taught intercropping with crops such as peanut, corn, mongo and white beans, which no one does here. It gave them additional income, Francisco added.
They likewise spent less because they use vermicast instead of applying purely commercial fertilizer. The vermicast or organic fertilizer is produced by the association as additional livelihood introduced by DAR.
DAR also provided us with the necessary equipment like the 120-horse power four-wheel drive tractor and a 10-wheeler heavy-duty dump truck that are used in the land preparation and hauling saving us from high rentals, Francisco further shared. Instead, our association earn by offering the machines for rent, he added.
When asked how much they earned from this season in sugar block farm (SBF), Jimmy Dejon, MAGSALIA Farm Manager, disclosed that their grossed income reached P168,831 from sugar sales (P149,932), molasses (P10,780), intercrop (P3,000) and trucking allowance/incentive (P37,063).
Deducting the P128,768 they spent in their operation from the gross income, MAGSALIA gained P40,063 from SBF on a hectare plantation alone. How much more if the entire 30 hectares owned by the members intended for this project be utilized?
That is why, members of the association, who used to earn as low as P1.50 a day as sugar farmworkers in the 70s, are excited to go full blast on SBF.
Since the members, who are just ordinary farmers, don't have the capital, while the association neither could afford to finance the entire operation, MAGSALIA members are now availing of loan under the Agricultural Production Credit Program (APCP) from the Land Bank of the Philippines at 8.5 percent annual interest rate.
To other small sugarland owners, Francisco is encouraging them to join their association and double their harvest.
MAGSALIA started in 1990 with 32 members only. All of them were ARBs contributing P100 each to form their capital build-up (CBU).
Now, the association has expanded to 111 members where 58 are ARBs and with total assets reaching P9.6-million mostly derived from lending, the major service offered by them through the years.