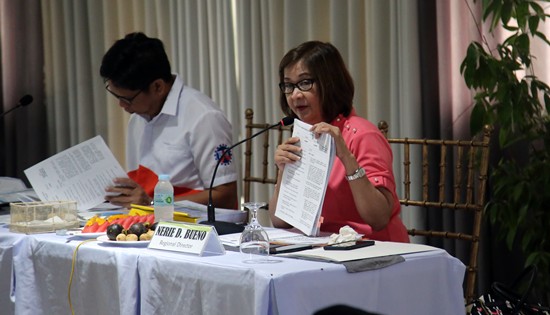 L-R: Assistant Regional Director Eric Ayapana and Region Director Nerie Bueno during the 9th Regional Monthly Coordination Meeting.
SFDEO hosts the regional monthly coordination meeting
By MAE ANGELICA R. COMOTA
September 27, 2018
CALBAYOG CITY – The Department of Public Works and Highways (DPWH) Samar First District Engineering Office (SFDEO) hosts the Regional Coordination Meeting on September 25 to 26, 2018. In attendance are key officials of DPWH Regional Office No. 8 and heads of the 13 district engineering offices of the region.
SFDEO's District Engineer (DE) Alvin Ignacio welcomes the newly installed Regional Director (RD) Nerie Bueno and presents to her an overview of the District as well as projects implemented and completed for 2018.
During the meeting proper, RD Bueno's priority is to improve region-wide performance in terms of physical accomplishment and absorptive capacity. She also issues various policy directives that will replace outdated systems and improve processes.
"We have the potential to be the best regional office, all we need is to follow the right direction towards our goal of becoming an effective and efficient government agency by 2030. I am appealing to you to be obedient in following instructions because we cannot move forward if there is resistance," said RD Bueno.
The planning division of the regional office also announces the breakdown per district of the allocation and projects under the 2019 regular infrastructure program. In line with this, RD Bueno directs the district engineers to complete all the plans and program of works by November 2018 and must be bid out before Christmas of this year.
The district engineers also discuss issues and concerns affecting their respective district offices.
The meeting concludes with RD Bueno's challenge to everyone to go beyond the ordinary call of duty in order to reach and surpass this year's targets; "As one region, let us help one another attain our goals, let us put Region 8 in the map."